Healing Arias available as pinch-hitter vs. Rox
Healing Arias available as pinch-hitter vs. Rox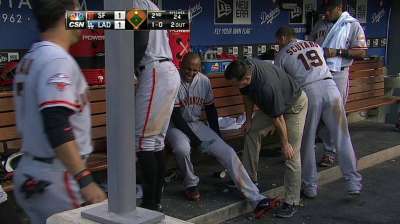 DENVER -- After missing two games, Giants infielder Joaquin Arias was available as a pinch-hitter in the series opener against the Rockies Friday.
Arias injured his hamstring running the basepaths against the Dodgers on Monday, but said he felt better and would be available on Friday. Arias tested the hamstring with light pregame jogging at Coors Field and manager Bruce Bochy confirmed he will be available off the bench.
"[Fans] could possibly see him pinch-hit," Bochy said. "That would be his duty today. We're going to limit him today.
"He did come out early, he swung the bat, fine swinging, ran a little bit. So he's available."
There was genuine concern that Arias would have to go on the disabled list, but Bochy said that option is not as likely.
"His progress has been about what [Giants athletic trainer] Dave Groeschner told us," Bochy said. "So I am a bit more optimistic that he's coming around."
The versatile Arias, who has played at least five games at first base, third base and shortstop, is batting .276 with 10 RBIs and 29 hits in 58 games.
Ian McCue is an associate reporter for MLB.com. This story was not subject to the approval of Major League Baseball or its clubs.