Youngs, Lannan lead Phils' rout at Dodger Stadium
Youngs, Lannan lead Phils' rout at Dodger Stadium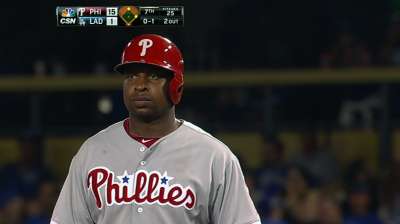 LOS ANGELES -- Charlie Manuel finally got his knockout punch.
The Phillies pummeled the Dodgers on Friday at Dodger Stadium, 16-1. It was the Dodgers' worst loss at home since a 19-2 loss to the New York Giants at Ebbets Field on July 3, 1947.
It was a warmly welcomed performance for a team that has struggled to score runs throughout the season.
"I don't want to talk too much," Manuel said. "I'll let the performance play. I don't need to say a whole lot. You have big games like that and it's a big lifter and everything. But also you've got to be careful not to talk a whole lot because the other team gets mad and they might rare up and beat you tomorrow. That's having respect for the game."
It was the first time the Phillies had scored 10 or more runs in a game since a 16-1 victory over the Mets on Sept. 20, 2012. Their 21 hits also were the most since they had 21 in that same lopsided victory at Citi Field.
Oh, the carnage.
"It was a good game from top to bottom, even the pitcher's spot coming up and driving in runs," Delmon Young said. "I know it has to be the highest offensive total we had, but it wasn't like a lot of games where we had a lot of hits and left a lot of runners on. We actually drove everyone in. I think we could have won every single game on this road trip so far. So we just have to keep doing that for the next couple weeks. We can gain a lot of ground doing this."
Young is right: The Phillies could be 5-0 instead of 3-2 on this 10-game road trip, but they blew a ninth-inning lead Monday in San Diego and a seventh-inning lead Thursday against the Dodgers.
It was just last Friday at Citizens Bank Park, where the Phillies sustained a 4-3 loss to the Mets, that Manuel's frustrations about the offense boiled over. Philadelphia sports personality Howard Eskin asked Manuel if the lineup would be fine. Manuel said he did not know, nobody knew. Asked if there were any more questions, Eskin pressed Manuel's button and said, "When are you going to score 10 runs? That's what I want to know."
"When I knock you out," Manuel replied.
Manuel had nothing to say about that Friday.
Why bother?
The Phillies beat up Dodgers left-hander Chris Capuano, who allowed 10 hits and seven runs in 3 2/3 innings. The Phillies took a 3-0 lead in the first inning and built a 6-0 lead in the second. Chase Utley hit a one-out double and scored on Jimmy Rollins' single to right in the second. Domonic Brown followed and walked and Young doubled to right-center field to score both runners.
Young's double was his seventh hit in seven plate appearances. He finished the night 3-for-6 with a career-high six RBIs. The right fielder also threw out a runner at the plate in the sixth.
There has been a lot of speculation about Young's future in Philadelphia. He was hitting just .220 on Sunday. He finished Friday's game hitting .259. These past three games -- he is 9-for-14 with two doubles, one homer and eight RBIs -- have earned him more time.
"This is usually about the same time every year right around 150 at-bats everything starts clicking," said Young, who has 158 at-bats. "I've been with Wally [Joyner] and Hendu [Steve Henderson], in the cage working all the time, in BP and I've still been getting the opportunity to play, so, it was just a matter of time for it to click."
But Young wasn't the only Phillies player to have a good game at the plate. Michael Young went 4-for-6 with a home run and two RBIs. Utley, Rollins and Ben Revere had multihit games, and John Mayberry Jr. homered.
Phillies left-hander John Lannan even went 3-for-4, the first Phillies pitcher to have three hits in a game since J.D. Durbin on July 17, 2007, against the Dodgers.
Lannan pitched pretty well, too. He allowed one run on five hits and a walk and struck out two in seven innings to pick up the first win of his Phillies career.
"It was a good night, you know?" he said. "It was good to go out there and have that support. It really forced me to pound the zone. The three knocks weren't bad, either."
Of course, the trick is making nights like Friday a semi-regular event. Maybe not 16 runs. But more than three. The Phillies are 9-33 when they score three or fewer runs. They are 30-9 when they score four or more.
"That's the hope for sure," Michael Young said. "We've been talking for a while about generating some momentum offensively as a team, producing the way we're all capable of doing. I think that started with getting a healthy lineup, which we have now. We have a healthy lineup and I think our offense is capable of doing big things. Certainly you don't expect this, but we expect to have good at-bats and play good, solid, fundamental baseball."
Todd Zolecki is a reporter for MLB.com. This story was not subject to the approval of Major League Baseball or its clubs.