Belisle hoping a clear mind is key to snapping skid
Belisle hoping a clear mind is key to snapping skid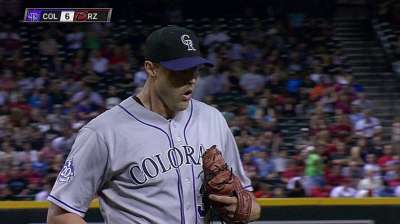 DENVER -- If Rockies slumping right-handed reliever Matt Belisle goes back to the drawing board, it's with an eraser, not chalk.
Belisle gave up Marlon Byrd's game-winning home run in Thursday's 3-2 loss to the Mets and has been touched for 12 earned runs, 14 hits, a home run and four walks in his last 6 2/3 innings, covering seven appearances. The slide is out of character for Belisle, who went into Friday's game with the Giants with the most appearances of any Major League reliever over the last three seasons (267).
In figuring out a solution, Belisle is not going to dissect his own pitch strategy or mechanics. He's trying to clear his mind, not fill it with more information or analysis.
"To try to break this down is going to make things a lot more complicated," Belisle said. "There's nothing wrong with me physically. There's nothing wrong with me mentally. You go back to why some pitches are not being executed consistently, that's for me to figure out on my own.
"In some of the cases, they're some of the same pitches I've gotten away with in the past. So I look at this just as a trough that I'm climbing out of. When I get out of that, here we go."
For much of his time with the Rockies, Belisle has been used in the seventh inning with a lead, but the whole bullpen had to be slightly adjusted for the last 25 games with closer Rafael Betancourt out with a right groin strain. The Rockies activated Betancourt before Friday night's game, so Rex Brothers can go back to his setup role.
But don't expect manager Walt Weiss to move Belisle to a non-pressure role. They've already had to do that with righty Wilton Lopez, whose ability to force ground balls has taken a hiatus.
"With Raffy back, it changes things a little, but Matty is still going to be pitching in meaningful times of the game," Weiss said. "Matty is always willing to take the ball, whenever that is over the course of the game. I don't think it affects him too much. I think he's going to be fine."
There has been a 2-mph drop in his fastball velocity over the past two seasons according to FanGraphs and the Rockies-dedicated Purple Row blog reported that he is using it more often than in the past -- 67.2 percent as opposed to 60.1 percent last season. Belisle insists he is not dealing with an injury, and said he has been experimenting with different patterns, especially against National League West hitters.
He's had fastballs and sliders hit hard when they've been located poorly. Belisle said he has watched video of him executing properly and is trying to repeat that, but he is leaving the deep analysis to others.
"I can throw a ball where I want to," Belisle said. "I can get anybody out at any time. That unwavering belief never wanes with me. My confidence won't be shattered at all. Let's get the schematics right and get that attitude that I know is there.
"I have the confidence that I will get on a great run, have a good season and get to the playoffs and be ready. That's the thing. There's no time to over-analyze. We've got a good club and the division right in front of us with these next games."
Thomas Harding is a reporter for MLB.com. Read his blog, Hardball in the Rockies, and follow him on Twitter @harding_at_mlb. This story was not subject to the approval of Major League Baseball or its clubs.