Shuck proving to be hit at top of Angels' lineup
Shuck proving to be hit at top of Angels' lineup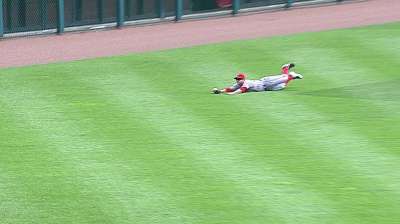 HOUSTON -- Angels outfielder J.B. Shuck is settling in at the leadoff spot, and it's just in time to face his former team.
Shuck was in the leadoff spot for the fourth straight game in Friday's opener vs. the Astros, as Peter Bourjos continued to nurse a thumb injury.
Shuck has been nothing short of stellar at the top of the lineup, proving a key cog during Los Angeles' three-game sweep of Detroit.
In that series, Shuck went 6-for-14, scoring at least one run in all three games and driving in four runs during the Angels' 14-8 slugfest victory on Tuesday.
"I feel good, since I just tell myself it's the same kind of situation whether it's leadoff or nine-hole," he said. "I try not to think about it, really."
Shuck might not be thinking about it, but manager Mike Scioscia is eyeing his approach intently. He hasn't found anything to dislike so far.
"J.B.'s playing terrific baseball for us," Scioscia said. "Even when he's not getting on, he's seeing a lot of pitches. He's setting the table for the top of our order, and he's been a real spark plug for us. Hopefully, he'll keep taking advantage of this situation."
The new role isn't out of line with Shuck's season as a whole. He entered Friday hitting .327 in June while starting 14 games, scoring 12 runs and driving in nine. In 30 at-bats in the leadoff spot, he was hitting a cool .333 with seven RBIs.
Shuck, who played in 37 games with Houston in 2011 during his Major League debut, has been the Angels' chameleon this season. He's started one game at designated hitter, pinch-ran twice, played 48 games at two different outfield spots and pinch-hit seven times. He's had at least one at-bat in every spot in the order except for the three-hole.
"I didn't really expect to have this kind of impact so quick," he said. "I knew my role was as the guy coming in off the bench. In the same sense, you have to be ready to step in when injuries do happen. I'm just holding down the fort right now."
Chris Abshire is an associate reporter for MLB.com. This story was not subject to the approval of Major League Baseball or its clubs.