Leyland: July 14 starters won't pitch in All-Star Game
Leyland: July 14 starters won't pitch in All-Star Game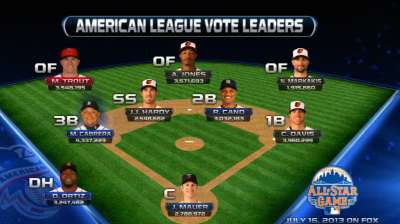 ST. PETERSBURG, Fla -- American League All-Star Game manager Jim Leyland said Friday that although pitchers who start games on Sunday, July 14, will be welcome on the team, he will not use them in the All-Star Game two days later.
"Pitchers who pitch on Sunday can still pitch in the All-Star Game, but I will not pitch anyone who started on Sunday," Leyland said.
Justin Verlander, who started last year's All-Star Game for the American League, is scheduled to start for the Tigers on the Sunday before this year's game -- although Leyland did not specifically mention Verlander during Friday's discussion.
"They can still make the team," Leyland said of the pitchers who start that Sunday. "They can be selected. They can go and they can pitch if they say they want to pitch. Those are the rules. I'll be glad to have them voted in. I'll be thrilled to have them there. But I will not pitch anyone from any team in the All-Star Game who started on Sunday.
"I've talked to other managers about it and I haven't found anybody who doesn't agree with me 100 percent. I want to return their pitchers to them the same way they come to me."
In other words, Leyland won't risk injuring a pitcher who started a game two days before the All-Star Game. Leyland added that if a pitcher started on Saturday, July 13, he would probably pitch him for an inning.
Jim Hawkins is a contributor to MLB.com. This story was not subject to the approval of Major League Baseball or its clubs.