Guthrie fine despite some bruised fingers
Guthrie fine despite some bruised fingers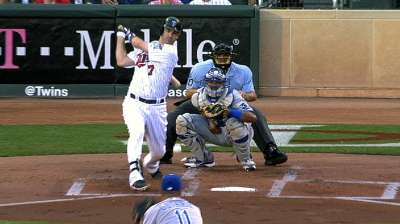 MINNEAPOLIS -- Royals pitcher Jeremy Guthrie took a sharply-hit batted ball off the fingers on his right hand in Thursday night's 3-1 loss to the Twins, but isn't expected to miss his next start.
"They're a little bruised right now, a little swollen, but he'll be fine for his next start," manager Ned Yost said before Friday's contest against the Twins. "He got through the game fine."
The incident occurred in the first inning, not the sixth as previously reported.
Dick Kaegel is a reporter for MLB.com. This story was not subject to the approval of Major League Baseball or its clubs.