Missouri's Majors count adds Twins' Gibson
Missouri's Majors count adds Twins' Gibson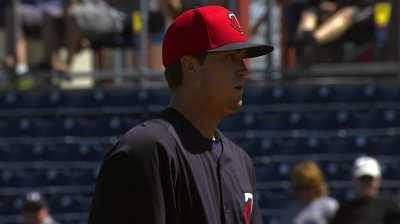 MINNEAPOLIS -- The University of Missouri clan in the Major Leagues is growing with Saturday's addition of Kyle Gibson, who'll start for the Twins against the Royals. It's Gibson's big league debut.
A right-hander from Greenfield, Ind., Gibson went to Mizzou and was a teammate of Royals reliever Aaron Crow for the 2007-08 Tigers. Both Crow and Gibson were first-round choices in the 2009 First-Year Player Draft, going 12th and 22nd overall, respectively.
"He throws a lot of strikes, got a fastball, curveball, changeup and slider, but I haven't seen him pitch since college," Crow said. "But he used to pound the strike zone, sinkers in and out. Used all his pitches."
While Crow was an All-Star as a rookie in 2011, Gibson's arrival in the Majors was delayed by Tommy John surgery in September 2011, but he returned to pitch 13 Minor League games in 2012. This year with Triple-A Rochester, Gibson was 7-5 with a 3.01 ERA and had two shutouts.
Crow said the other Mizzou products in the Majors are pitchers Max Scherzer of Detroit, along with second baseman Ian Kinsler and pitcher Nick Tepesch of Texas for a total of five.
"That's pretty good. I don't know of too many other schools that have that many, so it's something to be proud of," Crow said.
Dick Kaegel is a reporter for MLB.com. This story was not subject to the approval of Major League Baseball or its clubs.