Cobb plays catch for first time since injury
Cobb plays catch for first time since injury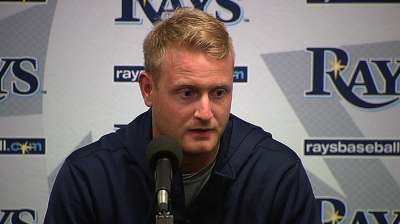 ST. PETERSBURG -- Alex Cobb emerged from the Rays' dugout, threw his arms in the air and proclaimed, "I'm a free man."
The injured starter, who was struck on the right side of the head with a line drive on June 15, played catch for the first time on Friday with head athletic trainer Ron Porterfield.
Cobb said he still had a slight headache, but felt fine otherwise.
Rays manager Joe Maddon called the step in Cobb's progress "outstanding."
"It's great," Maddon said. "Anytime I walk by him, he tells me he's having a good day and that's good to hear. We'll just take our time with him and follow his lead. With guys that have been hurt like that, I don't like to consistently ask them how they're feeling. I avoid that."
Adam Berry is a reporter for MLB.com. Follow him on Twitter at @adamdberry. Sam Strong is an associate reporter for MLB.com. This story was not subject to the approval of Major League Baseball or its clubs.