Cabrera in good spirits en route to return
Cabrera in good spirits en route to return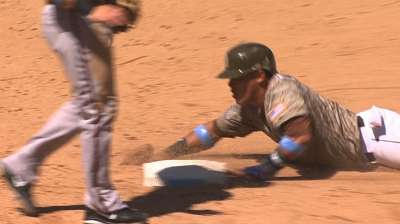 MIAMI -- The Padres have not set a timetable for Everth Cabrera's return to the lineup, but the shortstop and the club seem in good spirits about his progress.
Cabrera, who was placed on the 15-day disabled list June 19 with a hamstring strain, ran Friday and is close to beginning a rehab assignment.
"We're going to stay on top of this hamstring as best we can moving forward," San Diego manager Bud Black said. "He's doing well. He's encouraged."
Cabrera said Friday: "I feel really good right now. I feel like I can play the game. I'm probably like 80 percent."
Cabrera said he was 70 to 75 percent Thursday.
The 26-year-old is eligible to return to the Padres while the team is in Boston to face the Red Sox next week. However, Black said Cabrera would go through a rehab assignment before rejoining San Diego's lineup.
Cabrera said he had been working on running the bases and getting his confidence back while monitoring his progress.
Joe Morgan is an associate reporter for MLB.com. This story was not subject to the approval of Major League Baseball or its clubs.