Uehara continues dominance in closer's role
Uehara continues dominance in closer's role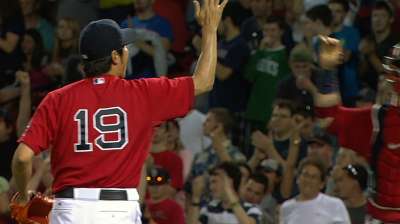 BOSTON -- The experiment of moving Koji Uehara to the closer's role is off to a flying start for the Red Sox.
For the third straight day, Uehara was called on for a save situation. And once again, the right-hander delivered with a dominant performance in the Red Sox's 7-5 win over the Blue Jays on Friday night.
It was the first time Uehara pitched on three consecutive days all season.
"During batting practice, I had told [manager] John [Farrell] I'd be ready if that situation arises," said Uehara.
Saving three games in three days is impressive enough. But doing it in the fashion demonstrated by Uehara is rare -- even for the most accomplished closers.
Uehara has retired all nine batters he's faced in the three-day span, striking out six of them. It has taken him all of 44 pitches.
But don't get any crazy ideas about Uehara saving a fourth straight game on Saturday.
"I'm going to tell them that I'm not available tomorrow," Uehara said with a broad smile.
For the season, Uehara has a 1.91 ERA, allowing 19 hits and striking out 48 over 33 innings.
"Man, he's awesome," said Andrew Bailey, the man Uehara replaced as Boston's closer. "He's fun to watch. It's unbelievable. He's definitely been our guy down there all year that has been that rock that you can call on any time and he's ready to go. What he's done the last three nights is fantastic. It's definitely fun to watch. It's like a video game to him."
Ian Browne is a reporter for MLB.com. Read his blog, Brownie Points, and follow him on Twitter @IanMBrowne. This story was not subject to the approval of Major League Baseball or its clubs.