Zito, offense come up short in opener vs. Rox
Zito, offense come up short in opener vs. Rox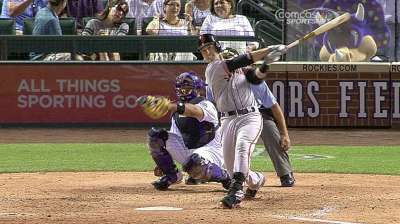 DENVER -- Even with struggling veteran Barry Zito on the mound, Coors Field seemed like a golden opportunity for the Giants to snap a four-game losing streak. Despite the troubles that have defined Zito's career with San Francisco, he owned the fourth-lowest ERA (2.84) against the Rockies of all active pitchers.
But Zito battled through nearly every at-bat in his 5 1/3 innings as the Giants fell, 4-1, to the Rockies at Coors Field Friday night. It took him 66 pitches to make it through the first three innings, and he was taken out of the game after allowing four earned runs, 10 hits and three walks, increasing his ERA to 4.53.
The loss was San Francisco's seventh in their last eight games and fifth in a row as they fell to three games below .500 for the first time this year.
"They're trying to get out of this [slump] and when you're in something like this, it's human nature to start pressing," Giants manager Bruce Bochy said. "Everybody wants to do something to spark the club and maybe it's better to back off a little bit. We're doing what we can here to get this thing going, but it's contagious throughout the lineup."
Zito's outing lost traction in the third, when Michael Cuddyer belted a two-run, opposite-field home run over into the right-field seats. That homer, which came with Jordan Pacheco on first, was Cuddyer's fourth in six games and extended his franchise-record hitting streak to 25 games.
Four pitches later, catcher Wilin Rosario hit a Zito cutter over the left-field wall, the ball slipping past the glove of a leaping Andres Torres as he tried to rob Rosario of the home run.
"In the first couple [innings] I was just trying to find my timing," Zito said. "After the third really is when I felt everything was normal. But even in that, they … [were] getting hits and then Cuddyer was the big mistake tonight. Going 2-0 and then just throwing that backdoor cutter up in the zone instead of keeping it down."
The southpaw is now 0-3 over his last five starts, and Friday night was the fourth time this year he has allowed double-digit hits.
Rockies starter Jhoulys Chacin was everything Zito was not -- highly efficient and in control. Chacin had a towering 6.68 ERA and 0-4 record over his last six starts against San Francisco, but this time he tossed eight scoreless innings. It extended a recent run of domination for Chacin, who has lasted at least seven innings and surrendered just two runs or less over his last three starts.
It was telling that Chacin and Zito each threw exactly 95 pitches -- the former with five more strikes -- but had such contrasting results.
"I've just been trying to throw strikes -- attack the hitter, make them swing it," Chacin said. "That's what I've been doing the last three or four starts. When I get a runner on base, just don't worry about it, get a ground ball or get the out."
Even when the Giants stood on the doorstep, they failed to push runs home. In the fourth inning, Brandon Belt smacked a ball toward right field with runners on first and second, but Rockies second baseman DJ LeMahieu made the diving grab to end the inning and keep San Francisco scoreless.
In the seventh, Belt roped a two-out double into left and Torres followed with a walk. But again they came up short, this time by a Brandon Crawford grounder to end the threat.
The Giants finally got on the board in the ninth when Buster Posey sent an elevated, floating fastball from Rex Brothers into the Rockies' bullpen. The star catcher, who was responsible for three of his team's four hits, has reached safely in 46 consecutive games against Colorado.
Posey's 11th homer also snapped a streak of 32 consecutive scoreless appearances from Brothers, the longest streak by a reliever in Colorado history.
Posey and Belt (1-for-4) were the only Giants batters to pick up a hit. Bochy said Zito pitched well enough to keep them in the game at hitter-friendly Coors Field, the lack of runs bearing much of the blame.
"It only takes two or three guys to get it going to keep the line moving," Bochy said. "That's what's missing right now -- too many guys are struggling. That line is stopping and that's part of the problem.
"At some point, it's going to take somebody to spark this club, and we're missing a spark."
Giants relievers Jake Dunning and George Kontos did an admirable job in relief, only allowing three hits over the final 2 2/3 innings.
Even after stockpiling losses -- San Francisco is 9-16 in June -- they are just four games back in the division. They are just one dominant stretch away from climbing back into the playoff picture.
"The only fortunate thing ... is that the division hasn't been something that's totally out of hand right now," Zito said. "It's not out of reach completely, so we've all been beating up on each other in the NL West. It could be a lot worse from that standpoint, but there's no reason for us to look at that and feel good about things.
"We can't turn our season around in one day. But we can win today."
Ian McCue is an associate reporter for MLB.com. This story was not subject to the approval of Major League Baseball or its clubs.