Rays face rotation decision with Price's return
Rays face rotation decision with Price's return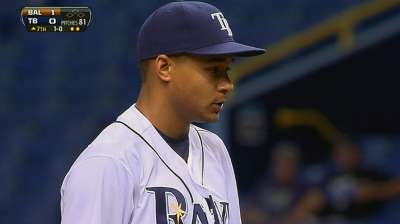 ST. PETERSBURG -- Rays fans received a piece of good news on Friday when the club announced that last season's American League Cy Young Award winner, David Price, will come off the disabled list to face the Astros in Houston on Tuesday.
As is always the case in baseball, one player's good fortune means disappointment for another, and Price's return will force one of the Rays' young starters out of the rotation.
The candidates are rookie Alex Colome -- who was 1-0 without allowing an earned run in 10 innings of work before Friday's start against the Tigers -- and Saturday's starter, Chris Archer, who has now made nine starts for Tampa Bay over the course of the last two seasons, compiling a 3-6 record and a 4.42 ERA.
Whomever the Rays choose to remain in the rotation will be lined up to start the team's final game in Houston on Thursday. Which one will it be? Don't ask manager Joe Maddon.
"Whatever we decide to do will be tough," Maddon said Friday. "I like what both of them have been doing. I honestly don't have a strong opinion right now. We just discussed that. Both have represented themselves well."
Maddon said the pitchers' body of work "has been pretty close to this point" and went on to explain that factors outside of performance alone could affect the decision.
When asked about the impending move before Friday's game, Archer said he isn't concerned about what might happen the next time his turn in the rotation comes up.
"It's really not something I think about, other than the fact that I'm happy that one of my favorite pitchers [Price] is going to come back and pitch in a few days," Archer said. "We only have the present moment."
Adam Berry is a reporter for MLB.com. Follow him on Twitter at @adamdberry. Sam Strong is an associate reporter for MLB.com. This story was not subject to the approval of Major League Baseball or its clubs.