Big inning backs Cole; Bucs win seventh straight
Big inning backs Cole; Bucs win seventh straight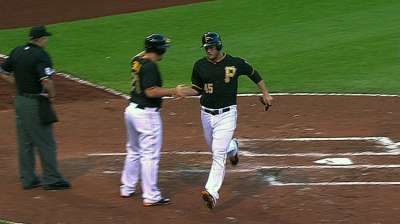 PITTSBURGH -- The Cole Train had a little trouble leaving the station Friday night. But like the Nolan Ryan Express before him and Walter "Big Train" Johnson way before him, when Gerrit Cole hit the open tracks, there was no stopping him.
Cole overcame a three-run first and finished with five shutout innings in pacing the Pirates to a 10-3 win over Milwaukee, their seventh win in a row.
And, as Ryan Reid was putting the finishing touches on a rarity -- a three-inning save -- those trying to make out the yells of a PNC Park sellout crowd of 36,875 were hearing double.
It was indeed hard to tell whether the fans were going with the old stand-by, "Let's Go Bucs!" or the newer cry, "We're Number One!"
Both would have been fitting, because the Bucs improved their Major League-best record to 49-30.
The club's fourth consecutive sellout crowd squirmed through Cole's rough start to cheer the rest of his historic outing.
"It was a little weird out there in the first," Cole said, "but my focus did not change after giving up those runs. I just wanted to keep grinding it out. Stuff doesn't go your way early, you still have to keep the same approach. Then you can definitely walk away with your head held high."
Cole wound up going six innings, allowing eight hits and three runs, to become the first Pittsburgh pitcher to win his first four starts since Nick Maddox in '07 ... that's 1907.
Streaking right along, the Bucs at least maintained their share of the NL Central lead (co-leader St. Louis had a late game on the West Coast). The Pirates also improved to 9-0 following scheduled off-days.
Cole refused to place his personal success in any context other than that of his team.
"It has to do with how well we're playing," he said. "We're just playing really well. Nothing crazy, for the most part just being opportunistic at the plate. When you play with that swagger, you put a lot of pressure on the other team."
Starling Marte went 3-for-5, falling a homer shy of the cycle, and Andrew McCutchen drove in three runs, falling a triple shy of the cycle, as the Bucs ran circles around right-hander Johnny Hellweg, making his Major League debut, and three Milwaukee relievers.
They did so without any instinct for clemency. Against some other team, perhaps they would have pulled some of their punches -- all the regulars remained in the game long after it became a laugher.
But these were the Brewers -- who had totally destroyed the Bucs for years prior to this one. The other cheek has turned: the Pirates have defeated Milwaukee three straight and six of the last seven.
Any chance of a fresh-faced rookies' duel quickly vanished. First, the Brewers took a big bite out of Cole. Then, the Bucs sank their teeth even deeper into Hellweg.
The Pirates pillaged for seven runs in a second inning abetted by shortstop Jean Segura's difficulties with grounders hit to his left and in front of him. The big blows of Pittsburgh's most productive inning of the season's first 79 games were Neil Walker's two-run double and a bases-loaded chopper by Russell Martin that skipped through Segura to allow another two other runs to score.
"He had some command challenges. His first game, and there's a lot going on," said Pirates manager Clint Hurdle about Hellweg.
Following the first inning -- Hellweg had retired the Pirates in order -- Hurdle emerged from the dugout for a brief chat with plate umpire Marty Foster. Prior to the start of the bottom of the second, Foster conversed with Hellweg while apparently also inspecting his glove.
And that was it, so Hellweg's subsequent meltdown could have been totally coincidental.
"You need to be patient and take advantage of what's given you," Hurdle said, "and there were some balls left up. And a couple of plays maybe not handled as well as usual complicated things."
The Bucs added on single runs in the third -- Marte doubled to score Cole, who had singled -- in the sixth -- Marte tripled and scored on McCutchen's double -- and in the eighth -- on McCutchen's ninth homer.
Two batters before McCutchen's homer, Marte hit a drive in same approximate direction -- only about 50 feet shorter, and it was caught.
"Yeah, I knew about the cycle. That's why I tried," Marte said, grinning. "Just missed it. Maybe next time."
Cole got an instant lesson in the vagaries of baseball in that first inning, in which he allowed as many runs (three) as in any of his first three starts and as many hits (four) as in the most recent, a 6 1/3-inning turn against the Angels.
Thereafter, he laced it on, even more so after the Pirates had erupted for the lead. Cole had already been recognized for having the stuff of aces, and may have given evidence of also having their makeup: You've got to get him early, or you've got to forget it.
"He got some adversity right away. His command wasn't there and initially he didn't have much of a secondary arsenal," Hurdle said. "After the first, he just met the demands of the game and got through six. He was able to compete and complete the outing from our perspective."
McCutchen appreciated the moxie shown by Cole after the shaky start.
"You aren't going to have your best stuff every time you go out there, but he handled it well," McCutchen said. "He came back out there, and dominated."
"He's got great stuff. He's going to be one of the best," said Milwaukee center fielder Carlos Gomez, who had two of the hits off Cole. "You have to give him credit. In the first inning he really was wild a little, but when he figured it out, he was good. That kid, if he stays healthy, he's going to be one of the best."
Tom Singer is a reporter for MLB.com and writes an MLBlog Change for a Nickel. He can also be found on Twitter @Tom_Singer. This story was not subject to the approval of Major League Baseball or its clubs.