Scherzer becomes first to start 12-0 since 1986
Scherzer becomes first to start 12-0 since 1986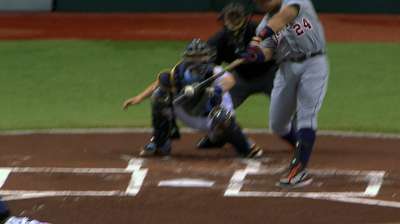 ST. PETERSBURG -- Max Scherzer became the first pitcher since Roger Clemens in 1986 to start a season 12-0 on Friday, and the first Tigers pitcher ever to reach that lofty plateau.
But Scherzer insisted the credit for his historic record rightfully belonged to sluggers Miguel Cabrera and Prince Fielder, who together blasted three gigantic home runs as the Tigers snapped their three-game losing streak with a 6-3 victory over the Rays at Tropicana Field.
"I'm pitching well, but the reason why I'm 12-0 is our offense," Scherzer said. "You got to see first-hand today the best player in the game [Cabrera] hitting two home runs on three pitches and go 4-for-4. Then Prince hits a bomb.
"My record is a reflection of our team. It was the offense that stepped up tonight. All I thought about was winning. That's all that mattered. I don't get caught up in the win-loss record, because it's kind of flukey."
Cabrera, the reigning American League Most Valuable Player and Triple Crown winner, homered with Austin Jackson aboard and one out in the first inning, then connected again leading off the fourth with a blast deep into the left-field seats.
Fielder called Cabrera's home runs, which traveled 388 and 432 feet, "enormous." And third-base coach Tom Brookens said, "The ball jumps off his bat, it's just a different sound."
Fielder himself blasted a towering two-run homer off the C-ring catwalk high above right field, 412 feet from home plate, that Cabrera laughingly said would have flown "to Miami," if it hadn't struck the catwalk.
"I was just glad it went out," Fielder said. "If you can tell me a formula to do that all the time, I'll do it."
"The big guys did what they do, they hit some bombs, and Max did a terrific job, obviously -- that's a nice combination," said Tigers manager Jim Leyland. "That's the combination of how we get a lot of wins. We're a good team and when we pitch good and hit good, we're going to win some games."
As for Scherzer's 12-0 record, Leyland said, "That's a nice individual thing. But more importantly, we needed a win.
"I guess that's the Tigers' all-time record, and the Tigers have been around a long time. That's pretty impressive."
Scherzer leads the American League in wins. Clemens started the 1986 season 14-0 for the Red Sox.
Scherzer, who held the Rays to four hits over the first seven innings, struck out nine. He has recorded six or more strikeouts in all 16 of his starts -- the second-longest streak of six-strikeout games to begin a season in American League history. Boston's Pedro Martinez holds the AL record with a 29-game streak to begin the 2000 season.
In the Tigers' last 11 games, Scherzer is 3-0 with a 2.70 ERA in three starts, while the rest of the starting rotation is 0-5 with a 7.62 ERA.
"It's something that's fun to watch, it's unbelievable," said catcher Brayan Pena. "It's exciting to be behind home plate and watch him doing what he's doing."
The home runs were Cabrera's 23rd and 24th of the year, second-most in the AL. That gives him 81 RBIs, which leads the league and are the most by any Tiger through 78 games since Vic Wertz in 1949.
Cabrera, who also singled and doubled, leads the Major Leagues with 116 hits, the most by a Tiger through 78 games since Al Kaline in 1955.
Ben Zobrist homered in the fourth for the first hit off Scherzer. Rays rookie Wil Myers slammed his third homer in the fifth to cut the Tigers lead to 4-2. Myers singled with two gone in the seventh and scored on Luke Scott's double down the right-field line to make it 4-3, before Fielder's homer in the eighth put the game away.
Scherzer is scheduled to start on Saturday, July 13. Leyland, who will manage the American League in the All-Star Game, said Friday that he will "probably" use pitchers who start on that Saturday for no more than one inning.
But that would not preclude Scherzer from starting the All-Star Game.
The Tigers have now won 15 of their last 19 games against the Rays, dating back to Aug. 11, 2010. They have held the Rays to four runs or fewer in 16 consecutive games.
Jim Hawkins is a contributor to MLB.com. This story was not subject to the approval of Major League Baseball or its clubs.