Royals' four homers boost Shields to victory
Royals' four homers boost Shields to victory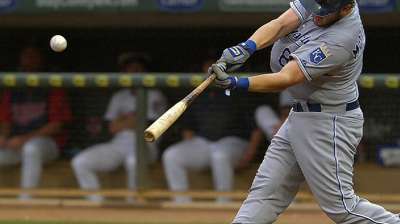 MINNEAPOLIS -- Somebody pass the smelling salts. James Shields must have fainted from the shock.
Not only did Shields get his first personal victory since April 30 -- almost two months ago -- but the Royals pounded a season-high four home runs for him as they beat the Minnesota Twins, 9-3, on Friday night at Target Field. Eric Hosmer had two of the homers and Billy Butler and Mike Moustakas each had one.
"It's definitely a big weight taken off," Shields said. "The two-month anniversary was coming up on not getting a win. But this team has been grinding all season long. We've won the last six of my games and I have no doubt we're going to keep going up from here."
Maybe this was the outburst the Royals have been waiting for to ignite their offense. If so, it couldn't have had a more appropriate beneficiary. In his previous 10 tries for win No. 3, Shields had a 2.87 ERA.
"The way he's been pitching and for this to be only his third win is definitely not what we had in mind, and not how it should be written out," Hosmer said. "Billy, in that first inning with that big swing, that's what defines the leader of an offense, taking matters into his own hands to put us on the board."
An unexpected shower delayed the start of the game for 28,916 fans by 26 minutes, but once it did get underway, excuse Shields if he was utterly stunned. Before he threw a pitch, he had a 3-0 lead.
Give Butler most of the credit for this rush of runs. After Alcides Escobar walked and Hosmer singled past Twins starter P.J. Walters, Butler hammered a three-run homer directly over the center-field wall. He connected on a 2-1 changeup for his sixth blast of the season.
It was the first time Shields had a lead of more than one run since April 30, the night he beat his old Tampa Bay club.
It got even better in the second inning, when Lorenzo Cain led off with a double to left field and scored on Alex Gordon's two-out single up the middle for a 4-0 lead.
That marked the first time the Royals had scored in the first two innings of a game since w-a-a-a-y back on April 9, also against the Twins (five runs in the first, one in the second) en route to a 7-4 win. Jeremy Guthrie was the lucky pitcher that time.
The surprise party continued in the third inning when, with Butler on with a single, Moustakas unleashed a soaring two-run homer into the upper reaches of the right-field stands for a 6-0 lead. It was Moose's fifth homer and his first since May 10 against the Yankees, 124 at-bats ago.
"Billy got the party started, Hoz kept it going and I chipped in a little bit," Moustakas said. "So, it was a fun day."
The Royals, who began the evening with the fewest home runs (43) in the Majors, got their third of the game when Hosmer bashed reliever Anthony Swarzak's first pitch over the right-field wall in the fifth. Hosmer connected off Swarzak again in the seventh with a two-run smash to center field. It was No. 6 for the Wizard of Hoz.
Royals manager Ned Yost, something of an amateur weather forecaster, was so concerned about the rain returning that at one point he dashed into the clubhouse to check his computer.
"I got a little nervous in the fourth inning when the clouds started coming in," Yost said. "I couldn't stand it -- I ran in and checked the radar and saw we were clear, so that relaxed me a little bit."
Yost feared a long rain delay that would force Shields out of the game and cost him his long-sought victory if he couldn't go the required five innings.
"I just didn't want him to have a nice lead and here we're in the fourth inning and we have an hour-and-a-half rain delay," Yost said. "The way this kid's going, it's very possible."
The fourth inning is when the Twins scored two runs off Shields on four hits and right fielder David Lough kept it from being worse. With two on and two outs, Lough's diving catch of Pedro Florimon's smash toward the line saved two runs.
"Obviously, it was a little weird start, having the delay, but the hitters did a phenomenal job of just getting runs early in the game." Shields said. "They swung the bat pretty well today, but I'm a little more impressed with our defense, to be honest with you. Some of those plays get overlooked, but you could pretty much run a web-gem highlight reel on today's game."
Lough also made a good running catch in the gap, Moustakas made a great pickup at third and shortstop Alcides Escobar made what Shields termed "two phenomenal plays." One was a diving catch of Brian Dozier's liner off reliever Aaron Crow in the eighth inning after Bruce Chen loaded the bases.
"I saw that line drive and I said, 'Oh, my gosh!'" said Escobar, who also made a terrific spinning throw to retire Trevor Plouffe on a grounder leading off the third. "But I saved like two runs."
That was the Twins' last threat and finally Shields was in the win column again.
"It's hard for people to understand, but his whole focus is 'We win.' He doesn't care who does it," Yost said. "We've won his last six starts. [Until tonight] he just wasn't the beneficiary of the win. He was just as happy as if he was, so getting the win for him tonight was huge.
Dick Kaegel is a reporter for MLB.com. This story was not subject to the approval of Major League Baseball or its clubs.