Myers hits third homer in loss to Tigers
Myers hits third homer in loss to Tigers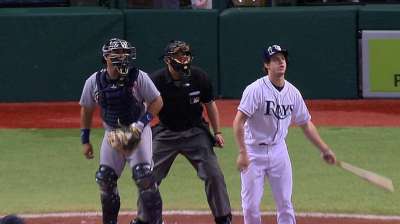 ST. PETERSBURG -- Before Friday's series opener against the Tigers at Tropicana Field, manager Joe Maddon spoke about how the Rays needed to start defending their turf, how they had to flip the script against a Detroit club that has had Tampa Bay's number over the past few years.
More than anything, as Maddon put it Friday afternoon, "We've got to start beating these guys."
They didn't start Friday night, however, as the Tigers pitched and homered their way to a 6-3 victory over the Rays. Tampa Bay has lost 15 of its last 19 games against Detroit, dating back to Aug. 11, 2010.
It was clear early on that it wasn't going to be the Rays' night, as Miguel Cabrera blasted the first of two homers on the second pitch he saw in the first inning, and Rays third baseman Evan Longoria left the game after the second inning when he irritated the plantar fasciitis in his right foot.
But as has been the case throughout most of the Tigers' recent winning streak against the Rays, Detroit's pitching led the way. Right-hander Max Scherzer became the first pitcher to start a season 12-0 since Roger Clemens did so for Boston in 1986, holding the Rays to three runs on four hits while striking out nine over seven innings.
The Tigers have pitched to a 2.36 ERA against the Rays since their stretch of 15 wins in 19 games began.
"There's a reason why he's 12-0," Maddon said of Scherzer. "He's very good."
Rays right-hander Alex Colome pitched fairly well in his home debut, though he suffered his first career loss. While Colome was beaten on a few bad pitches, it's hard to fault him for being tormented by the 1-2 punch of Cabrera and Prince Fielder, who were responsible for all four hits Colome allowed.
The two sluggers accounted for six of the Tigers' eight hits, all five of their RBIs and five of their six runs scored. Cabrera was particularly tough on Colome, ripping homers to left field in the first and fourth innings to give the Tigers an early 3-0 lead.
"That's what he does," Rays center fielder Desmond Jennings said. "He's the best hitter in baseball right now."
Cabrera ranks second in the Majors with 24 homers and once again leads in the other two Triple Crown categories with a .377 average and 81 RBIs. The reigning American League Most Valuable Player finished 4-for-4 for the second time in a week, en route to his third multi-homer game of the season.
"He's been real hot, plus they were bad pitches," Maddon said. "Colome made some good pitches. He just threw [Cabrera] a couple bad pitches. He didn't miss them. He's definitely different. You make any kind of a mistake, and when he gets to it, when he's hot -- even when he's not hot, he's dangerous -- but when he's hot, it's just different."
That's why Cabrera's homers didn't frustrate Maddon as much as the way the Tigers scored their fourth run. Fielder followed Cabrera's second homer with a double, advanced to third on Victor Martinez's fly ball to right field, then came home on a wild pitch -- a fastball that missed badly -- to make it 4-0.
Scherzer, meanwhile, was perfect for 3 2/3 innings, continuing to confound the Rays.
"He's been hot all season," Jennings said. "I guess this is a normal start for him. He's tough."
But Tampa Bay eventually got to Scherzer. Ben Zobrist homered to right field in the fifth, trimming Detroit's lead to 4-1. Wil Myers followed an inning later with a solo homer to left, his third of the season.
"He was really good, probably the best guy I've faced so far," Myers said of Scherzer. "He had good stuff. Luckily, I just got a good pitch."
Myers also played a part in the Rays' third run, going the other way with a two-out single in the seventh, then scoring from first on Luke Scott's double to the right-field corner.
"He's a real talent, you can see that," Tigers manager Jim Leyland said of Myers, the first Ray to have three homers and nine RBIs through his first 11 career games. "It looks like he has a lot of potential, obviously. He's a really good-looking young player."
But Fielder gave Scherzer some critical insurance in the eighth, following a double by Cabrera with a moonshot that struck the C-ring catwalk, the first such homer at the Trop this season.
That essentially put the game out of reach for the Rays, who couldn't muster up enough offense against Scherzer or keep up with another powerful outburst by Cabrera and Fielder.
"They got us. They absolutely got us," Maddon said. "We didn't play badly. They just out-homered us tonight."
Adam Berry is a reporter for MLB.com. Follow him on Twitter at @adamdberry. This story was not subject to the approval of Major League Baseball or its clubs.