Walters' slow start costly in loss to Royals
Walters' slow start costly in loss to Royals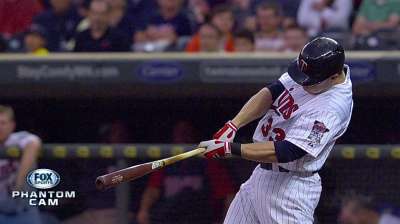 MINNEAPOLIS -- P.J. Walters couldn't put together the start he was looking for and greatly needed -- and he was his toughest critic.
Walters exited in an early six-run hole -- yielding two of the Royals' four homers -- and the Twins never recovered in a 9-3 loss on Friday night at Target Field.
Walters labored through three innings, giving up six runs on six hits, including a three-run blast to Billy Butler in the first. Walters' ERA vaulted to 6.03 after his brief outing -- which came on the heels of an even shorter start on Saturday at Cleveland, where he lasted just two-thirds of an inning.
"He was getting behind in the counts and couldn't put the ball where he wanted to," Twins manager Ron Gardenhire said. "His fastball was kind of drifting. ... One of those where you're hoping he finds it and you're giving him as much as you possibly can, but we ended up being in a 6-0 hole."
The right-hander didn't make any excuses after the game and immediately noted his shortcomings, especially in back-to-back poor starts.
"That's two in a row where I hadn't done my job," Walters said. "Falling behind, obviously, last week it was walking guys, today it was falling behind and giving up hits. Either way it was two bad ones in a row. I've got to come back and straighten some things out.
"We all have games where we struggle, everybody in the league has them. I've just put two in a row together. In my eyes that's unacceptable. To the team, I'm sure it is, too."
After rain delayed the start by 26 minutes, the Royals got to work quickly. With one out, Butler belted a mammoth shot to center, scoring Alcides Escobar, who walked, and Eric Hosmer, who singled up the middle.
The Royals added another run in each of the next two innings. Alex Gordon hit an RBI single up the middle to score Lorenzo Cain, who led off the second with a double to left. In the third, Mike Moustakas hammered the Royals' second home run off Walters to the second deck in right-center, scoring Butler, who singled in his second at-bat.
The Twins didn't get on the board until the fourth inning, already with a 6-0 deficit. Justin Morneau hit an RBI double down the right-field line to score Josh Willingham for the first run. Three batters later, Brian Dozier drove in Morneau with a double down the left-field line. Trailing, 6-2, Pedro Florimon was robbed of a potential two-run hit, when David Lough made a spectacular diving catch in right to end the inning.
"That was huge for them," Dozier said. "Just by [Royals pitcher James] Shields' reaction on the mound, it took a lot out of us because we had a little momentum going. I thought for sure that it was at least a double for Florimon. ... Obviously, they hit the ball well and had a few home runs, but looking back, they had four or five diving plays that could have turned the game around."
In the fifth, Twins center fielder Clete Thomas joined the home run party with a solo shot to the right-field plaza area to make it 7-3.
Twins right-hander Anthony Swarzak took the mound to start the fourth in relief of Walters. After a 1-2-3 third inning, Swarzak gave up the Royals' third home run of the night to Hosmer, who nailed a solo shot to right as he jumped on the first pitch to make it 7-2. Swarzak gave up another home run to Hosmer in the seventh, a two-run shot that extended the Royals' lead to 9-3.
Swarzak worked four innings, allowing three runs on five hits with three strikeouts.
Shields went 6 1/3 innings, allowing three runs on eight hits with no walks. He also struck out five, including four of the first five batters he faced, as the right-hander earned his first win since April 30.
"It's definitely a big weight taken off," Shields' said. "The two-month anniversary was coming up on not getting a win. But this team has been grinding all season long. We've won the last six of my [starts] and I have no doubt we're going to keep going up from here."
The Twins managed a small threat in the eighth, but couldn't scratch any runs across against the Royals' bullpen. Lefty Bruce Chen started the inning and loaded the bases on a Willingham walk and singles by Morneau and Oswaldo Arcia. Right-hander Aaron Crow replaced Chen and got the final two outs to end the threat -- including Moustakas' snag of a Dozier line drive up the third-base line.
"He came out of nowhere," Dozier said. "He's got awesome range over there, he plays third base really as good as anybody. He's a friend of mine, so I thought he was going to let it slide for me. I guess not."
Kelly Erickson is an associate reporter for MLB.com. This story was not subject to the approval of Major League Baseball or its clubs.