Rangers continue hot stretch, shut out Reds
Rangers continue hot stretch, shut out Reds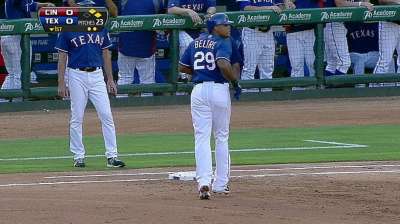 ARLINGTON -- Rangers left-hander Martin Perez looked like a highly touted prospect Friday night, posting another strong start as the Rangers defeated the Reds, 4-0, at Rangers Ballpark in Arlington.
In 6 2/3 innings, Perez allowed six hits, struck out three and walked one on 79 pitches. His counterpart, Johnny Cueto, left in the second inning with tightness in his right lat muscle on a 1-2 pitch to Mitch Moreland.
Cueto took the loss, allowing a run on two hits in the first inning. The Rangers scored on a two-out RBI single by Adrian Beltre, snapping a streak of 19 games without a run in the first inning. The last time Texas had scored a run in the first was on June 7 at Toronto.
"It's definitely an impact," Moreland said about Cueto's abrupt exit. "He's a big arm for them. In that situation and the way it happened, it's unfortunate for them."
Tony Cingrani replaced Cueto and struck out Moreland. The Rangers managed to tack on two runs in the inning with just one hit. David Murphy singled with one out, sending Jurickson Profar to third. Murphy stole second two batters later.
"We thought we were out of the inning; he was out and the ball became dislodged," Reds manager Dusty Baker said.
Texas drew three consecutive walks with two outs, including two by Elvis Andrus and Nelson Cruz with the bases loaded, to go up 3-0.
Cingrani endured a 38-pitch inning in a game that was 100 degrees at the start. It was the first triple-digit first pitch in Arlington this season. He allowed three runs on four hits in four innings, struck out three and walked six on 79 pitches.
"I think it's very draining for the pitcher," Rangers manager Ron Washington said of the heat. "I think when you actually look at it, he did a heck of a job for them. He rode the ship and got Dusty the innings he needed, but he was having a little bit of command trouble, and that heat certainly beats you up."
Perez allowed consecutive singles to start the second, but Todd Frazier hit a ground ball back to the mound that resulted in a double play. Chris Heisey popped up to second to end the inning. It was part of a stretch where Perez retired nine straight into the fifth.
"After I threw that inning, I said, 'They don't have a chance,'" Perez said. "I just want to continue to attack the zone and throw my pitches down."
Perez allowed a single to Frazier with one out in the fifth, but again induced a double play on a ground ball to Beltre, who along with Profar made a number of key defensive plays in the shutout.
"I think when you have good tempo, all of your players can do that defensively," Perez said. "That's what I like. I don't like to think too much on the mound because the guys behind me will feel tired. I just like to go quick and don't think too much and don't give too much credit to the hitters on what I'm going to do."
The young lefty started the seventh by allowing singles to Joey Votto and Brandon Phillips. Perez retired the next two batters on a popout and a flyout, but walked Heisey to load the bases. Jason Frasor came on and got Devin Mesoraco to ground out to short and end the threat.
Perez is 2-0 with a 1.32 ERA in two starts since he was called up from Triple-A Round Rock last Saturday.
"I just want to continue to do the same job," Perez said. I don't want to change my routine. I think I do a good job now and just want to keep going and continue to do what I did today. I just want to continue to train good here, so they can understand that I can compete at this level."
The Reds were 0-for-10 with runners in scoring position and have been shut out in consecutive games. They haven't scored in 22 innings.
"[Perez] was throwing strikes and he was mixing it up," Baker said. "When you're not scoring runs over a period of time, everybody looks great against you. He had good stuff. It was the first time we've seen him. This whole streak, it's the first time we've seen a lot of pitchers."
The Rangers recorded consecutive shutouts for the third time this season. They have won eight of their last nine after a season-high six-game losing streak.
Master Tesfatsion is an associate reporter for MLB.com. This story was not subject to the approval of Major League Baseball or its clubs.