Cueto injured, while offense again comes up empty
Cueto injured, while offense again comes up empty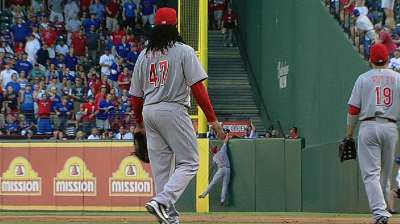 ARLINGTON -- Triple-digit temperatures and high humidity haven't caused hallucinations. The Reds are indeed in the midst of a Texas-sized funk that was compounded on Friday by the loss of their ace for the third time this season.
As Johnny Cueto went down with an injury in the second inning, the Reds lineup stayed down for a 4-0 loss to the Rangers. That made it back-to-back shutout losses for Cincinnati, which has a season-high scoreless streak of 22 innings. It's the longest for the team since July 9-16, 2010.
The Reds have lost six of their last seven games and are 1-5 with two games left on an eight-game road trip.
"It seems like we can't buy a run for anything right now," Reds manager Dusty Baker said.
The Rangers, who have back-to-back shutout wins, certainly aren't in a giving mood. Right-hander Martin Perez, called up last week from Triple-A, gave up six hits over 6 2/3 innings while his bullpen took care of the rest.
It's not like there weren't chances, however. The Reds were 0-for-10 with runners in scoring position.
"We're just not doing anything," said shortstop Zack Cozart, who had two hits, including a leadoff double in the eighth. "It seems like we're not putting any at-bats together. We'll get a hit and just have some easy outs. The next inning, we'll have a hit and the same thing happens. When you play 162 games, you're going to go through stuff like this."
Cueto gave up Adrian Beltre's broken-bat RBI single with two outs in the first to fall into a 1-0 hole. Trouble emerged during his first batter, four pitches into the bottom of the second. During a 1-2 pitch to Mitch Moreland, Cueto grimaced in pain and could not continue.
Head trainer Paul Lessard and manager Dusty Baker visited Cueto, who was immediately lifted and later diagnosed with tightness in his right lat muscle. It's an injury similar to the one that has already put him on the disabled list twice this season. Cueto will return to Cincinnati to see the doctor on Saturday.
"It is discouraging for him, and us," Baker said. "We'll just have to go back to the drawing board."
Lefty Tony Cingrani, who replaced Cueto in the rotation both times while he was out, found himself in a different type of situation when he took over in emergency relief in the second inning.
"I went from sitting on the bench just hanging out to, 'Hey, you're in the game.' I didn't have a warmup before the game," Cingrani said. "I just went out and started throwing."
Cingrani struck out Moreland with one pitch, but then found himself in a quagmire of wildness. Of the next seven batters, he gave up one single and four walks -- including three in a row. The first of the three was to Ian Kinsler, and came after David Murphy stole second base. Catcher Devin Mesoraco's throw was in time and could have been the third out, but Brandon Phillips couldn't hold on to the ball.
"We thought we were out of the inning," Baker said. "He was out and the ball became dislodged."
The walks that followed to Elvis Andrus and Nelson Cruz came with the bases loaded and made it a 3-0 game. Cingrani needed 38 pitches to complete the second inning.
"I told him to take his time to get warm," Baker said. "He's going to be in a lot of new situations. That's what it's all about being a rookie. I told Mesoraco whenever [Cingrani] says he's ready, to take five more pitches. Most guys say they're ready before because the crowd is on them and everybody is impatient. We've never seen him not find the plate like that."
Cingrani eventually settled down, but Jurickson Profar hit a one-out single to right field in the fourth that scored Beltre to make it a four-run game.
"I think when you actually look at it, he did a heck of a job for them," Rangers manager Ron Washington said. "He rode the ship and got Dusty the innings he needed, but he was having a little bit of command trouble, and that heat certainly beats you up."
In his four innings, Cingrani allowed three runs and four hits with six walks and three strikeouts. The last Reds pitcher to allow six walks in a game was Cueto on Aug. 23, 2011, against the Marlins. The last Reds reliever to walk six was Marc Kroon against the Mets on April 19, 1998.
"I got better as it went," said Cingrani, who pitched one inning of relief on Wednesday at Oakland. "I got a little tired in the last inning I threw. I haven't thrown that many pitches in I don't even remember how long ago. I just tried to keep battling."
On a night the bullpen got taxed on the first of 17 straight days of games, Alfredo Simon and Sam LeCure retired the last nine Texas batters in a row. There would be no comeback, however, as Perez got two double plays to derail chances in the second and fifth innings. The Reds left the bases loaded in the seventh.
It took one hour to get through the first two innings. The remaining seven innings of the game took less than two hours.
"When you're not scoring runs over a period of time, everybody looks great against you," Baker said. "[Perez] had good stuff. It was the first time we've seen him. This whole streak, it's the first time we've seen a lot of pitchers."
Mark Sheldon is a reporter for MLB.com. Read his blog, Mark My Word, and follow him on Twitter @m_sheldon. This story was not subject to the approval of Major League Baseball or its clubs.