White Sox open for business before Trade Deadline
White Sox open for business before Trade Deadline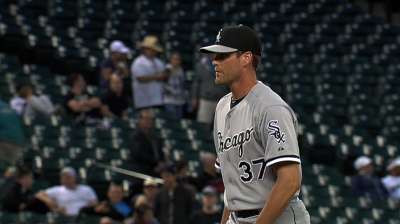 CHICAGO -- The non-waiver Trade Deadline doesn't seem to come around without the mention of White Sox reliever Matt Thornton as a candidate to be moved. It's been going on since 2008, by the left-handed reliever's estimation, and this year's rumors have been built up by Chicago's poor play.
"I'm not sitting at home all packed up and loaded up ready to go anywhere," said a smiling Thornton. "I worry about taking one day at a time and one pitch at a time. Getting myself ready for today.
"If they call me in, they call me in. That's the game of baseball and the life we live. I think everyone is prepared for the long haul [with the] White Sox."
Jon Heyman of CBSSports.com wrote Thursday night that the White Sox were basically open for business, with everyone but Chris Sale and Paul Konerko available for the right deal. The White Sox, as a rule, don't comment on rumors so did not directly address this report, but manager Robin Ventura believes the trade scenario pretty much represents business as usual.
"That's always the case, I think for most teams. People are available if the right trade is there," Ventura said. "Even being a player, you are a pro and you do whatever you have to do. If your name comes up, it is a distraction to a degree if you are a player that you specifically are targeted.
"There are rumors flying around. We are pros and you have to be able to handle it. That's part of the game. The focus is still coming out here trying to win this game, whether that stuff floats out there or not. You can't control that stuff."
Thornton knows the best way to keep as much of this team together as possible is for the White Sox to start winning. General manager Rick Hahn already might have made his decision based on a couple more rough losses this week for his team.
"It's a possibility, but at the same time, you've heard rumors for years and they are not going to give players away just because we are struggling," Thornton said. "We need to get on a streak where it makes it hard for them to break our team up."
Scott Merkin is a reporter for MLB.com. Read his blog, Merk's Works, and follow him on Twitter @scottmerkin. This story was not subject to the approval of Major League Baseball or its clubs.