White Sox come up on wrong side of twin-bill slugfest
White Sox come up on wrong side of twin-bill slugfest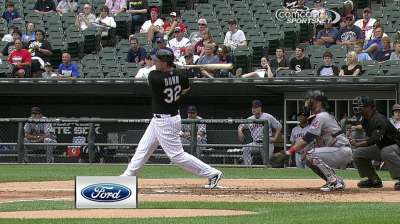 CHICAGO -- Friday's 19-10 victory for the Indians in Game 1 of a scheduled doubleheader at U.S. Cellular Field certainly wasn't the best argument the White Sox could make to general manager Rick Hahn for keeping this underachieving team together.
The White Sox pitching staff, which has far and away been the team's most consistent discipline during this forgettable 2013 campaign, got knocked around for a season-high in runs and hits allowed at 21. After starter Hector Santiago lasted just 2 1/3 innings, relievers Brian Omogrosso (0-2) and Ramon Troncoso were stretched to 65 and 61 pitches, respectively.
Casper Wells, who was set to play right field and hit eighth in the nightcap against Cleveland, was called on to work a scoreless ninth.
"He'll probably get another chance somewhere down the road," said White Sox manager Robin Ventura of Wells. "We just didn't pitch well. We didn't have a good day on the mound and they took advantage of it."
Those sorts of mound drubbings happen to even the best of staffs. But it was a moment from the end of the game that was more disturbing for Ventura and his staff.
Prior to this Game 1 setback, Ventura praised the White Sox for showing full-out effort at all times and pointing out that just because a player might not be producing, it doesn't mean he's not trying. But in the eighth inning, with two outs, Dayan Viciedo basically slowed down almost to a stop rounding third on Jeff Keppinger's single to center.
Ventura wasn't sure what happened in this situation with Viciedo, and maybe Viciedo thought center fielder Drew Stubbs wasn't going to throw home with a nine-run lead. Whatever the reason, Viciedo was thrown out in a rundown and was replaced by Jordan Danks in the top of the ninth.
"It bothers everybody," said Ventura of Viciedo's base running gaffe. "Again, you take care of it and make sure they know it, and you don't want to see it again."
Viciedo was taken out of the game because of this hustle issue, per Ventura. He did not start Game 2, but Ventura said that he wasn't certain if Viciedo was starting even before the eighth inning.
Santiago and Cleveland's first two pitchers, starter Trevor Bauer and reliever Matt Albers (2-0), needed 112 pitches combined simply to record the game's first nine outs. Bauer didn't even make it through the first, throwing 49 pitches over two-thirds of an inning.
It took two hours and 35 minutes for this game just to become official, with the Indians holding a 14-9 lead after five. The time for nine innings checked in at four hours and two minutes.
To the credit of the Indians, they certainly didn't pack it in after trailing by five runs in the first. And the White Sox had the same comeback state of mind when Cleveland scored 14 unanswered runs to erase that 5-0 deficit.
Staked to that five-run lead in the first, behind a two-run shot from Adam Dunn and a solo blast by Keppinger, Santiago gave it back in the second via a rally started with two outs and a runner on first. Stubbs singled home two, and Jason Kipnis doubled home two with a shot off the base of the center-field wall, marking one of six times that Kipnis reached base.
"You go out and get the five-run lead, and you want to go out and just keep throwing zeros," said Santiago, who yielded five runs, while striking out five and walking three. "Just pound the zone, and it's just one of those things where I felt like I threw enough strikes and I didn't walk anyone and I gave up five runs. They fell in everywhere and got through the holes."
"It's a heck of a lot better when you're up six or seven than down six or seven," Cleveland manager Terry Francona said.
Omogrosso replaced Santiago and was hit harder than the White Sox starter. He yielded six runs in the fourth and three in the fifth for a total of nine earned runs on nine hits over 2 1/3 innings, the most allowed by a White Sox reliever since Scott Eyre gave up nine on June 26, 1999, at Boston. Cleveland sent nine men to the plate in the second, 11 in the fourth, seven in the fifth and eight more in the eighth, while the White Sox had 11 batters in the first and eight in the fifth.
Two walks from reliever Bryan Shaw helped start a White Sox rally in that fifth, with Gordon Beckham driving in a run with a single and Tyler Flowers' eighth homer accounting for three more. Every starter in the game but Alex Rios had at least one hit, with Beckham and Keppinger leading the White Sox at three hits apiece. The other eight Cleveland starters had at least two hits, while four players had three.
This rough setback marks just another step toward roster changes on the horizon as the White Sox fell to 4-10 in their last 14 games.
"You hear stuff and hear trades and this guy is moving here and this guy is moving here, but you try not to worry about it," Santiago said. "You go out and play ball, and hopefully the next game is a little better than what happened here in this game."
Scott Merkin is a reporter for MLB.com. Read his blog, Merk's Works, and follow him on Twitter @scottmerkin. This story was not subject to the approval of Major League Baseball or its clubs.