Tribe outslugs Sox with 14 unanswered runs in Game 1
Tribe outslugs Sox with 14 unanswered runs in Game 1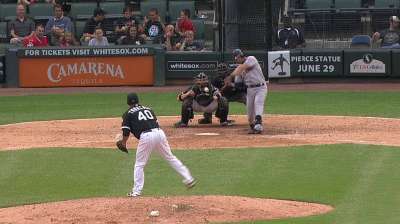 CHICAGO -- Indians rookie Trevor Bauer hung his head low, sulking as he walked back to the dugout after recording just two outs on Friday. Little did he know, his teammates were about to tie their highest output of the season in a 19-10 win at U.S. Cellular Field.
After the Indians' No. 2 prospect surrendered five runs in a 49-pitch first inning in the first game of a doubleheader, Cleveland's offense plated 14 unanswered runs, nine of which were scored with two outs.
Game 1 of Friday's doubleheader was the first time Cleveland won a game when its pitcher lasted two-thirds of an inning or fewer since Aug. 23, 2006.
"We knew it was early and that we had time to come back," Indians third baseman Lonnie Chisenhall said. "Not to mention, we have two games today, so guys were positive. We jumped on them real quick, which was nice to see. We got the game back to even there."
Bauer entered Friday's start with a 2.76 ERA in three spot starts this season. He'd impressed at Triple-A Charlotte until his last start on Tuesday, when he surrendered six runs (five earned) over three innings of work.
Friday would be a nightmare in comparison. He faced 10 White Sox batters before Indians manager Terry Francona emerged from the visitors' dugout to pull the young starter. Bauer had only allowed one hit in 15 chances with a runner in scoring position over the first three starts this year, and he hadn't surrendered one with two outs in an inning.
"They hit what I threw. I couldn't put guys away," Bauer said. "They hit some good pitches. With the exception of one of the home runs, everything was down and on the corners of the plate. Some of them were even off the plate. It's just one of those days."
Francona said Bauer's pitches were catching too much of the plate, and the White Sox were making him pay for it. Bauer pitched out of the stretch from the start of the game, trying it as a method of repeating his delivery without as much extraneous motion.
"I haven't felt comfortable out of my windup in the past two, three starts," Bauer said. "And in my bullpen, I didn't feel comfortable in it either, so I thought I'd work out of my stretch."
Chicago center fielder Alejandro De Aza led off the game with a double, and Bauer gave up five more hits (three with two outs), plunked catcher Tyler Flowers on the arm, threw a wild pitch and walked De Aza once the order came back around. Matt Albers eventually replaced him before he could finish a frame, and Bauer walked off the field after the Indians' infielders gathered at the mound in an attempt to settle the rookie.
The Tribe would do so in the top of the second by letting Bauer off the hook. Cleveland strung together a near-identical inning to the White Sox's first, evening the game at five with a familiar run of timely hitting. The Indians entered Friday's game batting .279 with runners in scoring position and two outs, the best mark in the American League. Cleveland recorded five two-out hits in the second inning and scored another six runs in the top of the fourth with three two-out hits.
Every Indians position player recorded a hit, shortstop Asdrubal Cabrera was the only Cleveland player not to drive in a run and the Indians became the first team since the Rockies in 2010 to have at least seven players record a multi-RBI game.
Northbrook, Ill., native Jason Kipnis went 3-for-4 with three walks, four runs and two RBIs, reaching base in his 30th consecutive game. The only White Sox pitcher to get Kipnis out was a position player. Outfielder Casper Wells came in to pitch the ninth for Chicago, and Kipnis smacked a ball that was heading toward the left-field line for a double, but De Aza (who had moved to left field in the ninth) made a nice running grab.
"He's been swinging the bat for a while now," Francona said. "It's not just been singles, it's been doubles, home runs, stolen bases. It's been a lot of production. He's a pretty good player, and we're seeing it right now."
Neither the Indians' nor the White Sox's bullpen held firm once the teams' starters left the game, but each was dealt a difficult hand. Santiago was removed after giving up five runs and throwing 73 pitches in 2 1/3 innings. The Indians then tagged White Sox reliever Brian Omogrosso for nine runs over 2 1/3 innings. He allowed six runs in the fourth, and White Sox manager Robin Ventura decided to send the right-hander back out for the fifth inning. The Indians once again pounded on Omogrosso, stringing together four doubles and plating three to extend the lead to 14-5.
"We just didn't pitch well," Ventura said. "They swung the bats and we didn't pitch very well. We didn't have a good day on the mound, and they took advantage of it."
Albers threw 2 1/3 scoreless innings after Bauer was removed, slowing Chicago's offense and allowing the Indians to climb back in the game.
"If he comes in and gives up runs, it's a different game," Francona said. "He pitched last night. There was a lot of good things that happened because we didn't have any luxury of matching up. Whoever came in had to stay out there for a little while."
But the White Sox finally made a push of their own, scoring four runs in the fifth off right-handed relievers Bryan Shaw and Cody Allen. Chicago scored another in the sixth off Allen, when designated hitter Jeff Keppinger singled home Adam Dunn to pull the White Sox within four.
The Indians would again put the game at arm's length on Ryan Raburn's two-run home run in the seventh and they tacked on two more runs in the eighth off Troncoso.
Cleveland last scored 19 runs on April 20 in Houston, and the club recorded a season-high eight doubles on Friday. The offense came in bunches in Game 1 of the doubleheader, and it more than backed Bauer's first-inning slip up.
Ethan Asofsky is an associate reporter for MLB.com. This story was not subject to the approval of Major League Baseball or its clubs.