Another productive day in Tampa for Jeter, A-Rod
Another productive day in Tampa for Jeter, A-Rod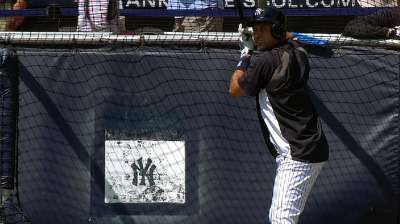 BALTIMORE -- It is possible that Derek Jeter could begin playing in Minor League rehab games before Alex Rodriguez.
Jeter and Rodriguez had another solid day of workouts at the Minor League complex in Tampa, Fla,. on Friday, and manager Joe Girardi said on Friday that he is not sure which player is closer to facing Minor League competition.
"I'm not sure who you'll see in a game first," Girardi said before the club's game at Camden Yards. "Alex has obviously had more simulated at-bats than Derek, but we'll see how that goes."
Both players spent time in the batter's box on Friday. Rodriguez had five simulated at-bats and ran the bases, hitting two batting practice home runs while also fielding ground balls and sliding on a mat in the outfield during his three hours at the complex.
Jeter had six simulated at-bats, which he also had on Thursday, marking his first time facing live pitching since March. He did not run the bases, but he took BP and fielded grounders on both grass and dirt.
Both A-Rod and Jeter faced 19-year-old Gulf Coast League right-hander Francis Joseph in their at-bats.
Jeter said, "Everything's good," as he departed the complex.
"I think what you think about is that they're getting closer to getting into games," Girardi said. "They're obviously seeing a lot of really young kids throwing at them, and you get a little nervous about that. But until they start getting into games, you don't really start thinking about it."
The Yankees have stuck to a vague timetable, saying that both are expected to return after the All-Star break.
The specifics of Rodriguez's situation, however are confusing. Rodriguez tweeted on Tuesday that he had been cleared to begin playing in rehab games, upsetting general manager Brian Cashman.
After stating that the tweet had been fueled by "pure excitement" about getting back on the field, Rodriguez reportedly backed off the statement in a telephone conversation with Cashman and team president Randy Levine, saying that he isn't actually sure when he could begin playing.
"I don't know who's going to be in a game first, and I don't know which one we're going to get back first," Girardi said.
Bryan Hoch is a reporter for MLB.com. Follow him on Twitter @bryanhoch and read his MLBlog, Bombers Beat. Adam Berry is a reporter for MLB.com. Follow him on Twitter at @adamdberry. This story was not subject to the approval of Major League Baseball or its clubs.