Clerical error, nothing more, behind CC/Phelps switch
Clerical error, nothing more, behind CC/Phelps switch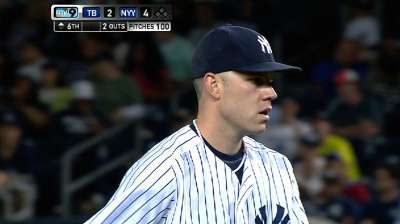 BALTIMORE -- The Orioles may have been surprised to see CC Sabathia instead of David Phelps on the lineup card for Friday's game, but the Yankees said there was no switch, just a clerical error.
Pitching coach Larry Rothschild said that Sabathia had always been scheduled to pitch against Baltimore on Friday, but he mistakenly gave the incorrect rotation to the Yankees' director of media relations, Jason Zillo, before the series.
Manager Joe Girardi said that both Sabathia and Phelps, who is pitching on Saturday, were aware of their correct days to pitch. Filling out crossword puzzles in the clubhouse, Phelps was amused to learn that he had briefly been the subject of speculation about a possible injury or trade.
"We felt like there was a good chance that [Sabathia] would pitch one of the three days, so it doesn't change anything about what we're doing," Orioles manager Buck Showalter said. "I finally just called Joe, and he said, 'Yeah, there was a miscommunication.' I said, 'Fine, thanks.' Short conversation."
Girardi also noted that right-hander Ivan Nova, who pitched well in a spot start against the Rays on June 23, is likely to pick up a start in the upcoming series against the Twins at Target Field.
"We're looking at the schedule day by day, and it kind of depends on if we need him [in relief]," Girardi said. "Our plan is to probably start him in a game in the Minnesota series. That could change."
Girardi still considers right-hander Adam Warren to be the regular long reliever, and he would like to be able to give some of his starters an extra day of rest as the Yankees attack a stretch of 20 games without an off-day.
"We're in an extremely long stretch of 20 games, and you start tacking on three or four starts in a row where it's on normal rest, we think that's pretty taxing," he said. "If during this time you can insert Nova one time -- or if you need to, twice -- we'll do it."
Bryan Hoch is a reporter for MLB.com. Follow him on Twitter @bryanhoch and read his MLBlog, Bombers Beat. Adam Berry is a reporter for MLB.com. Follow him on Twitter at @adamdberry. This story was not subject to the approval of Major League Baseball or its clubs.