Harvey does his job, but 'pen doesn't in loss to Nats
Harvey does his job, but 'pen doesn't in loss to Nats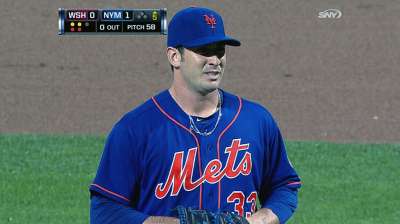 NEW YORK -- Marlon Byrd called it "just weird how the game works when your ace is on the mound," comparing Matt Harvey's starts -- the energy, the excitement -- to those of Justin Verlander or Stephen Strasburg. "You try and do a little something extra," Byrd added. Anything for the ace.
So it is puzzling that, though Harvey's run support this season may be statistically average, the Mets have time and again found ways to undermine their best starting pitcher.
Take Friday, for example. For what seemed like the umpteenth time this season, Harvey flashed no-hit stuff, finishing with 11 strikeouts over seven innings of one-run ball -- innings that, by Harvey standards, were typically stellar. But the bullpen imploded as soon as he left the game, resulting in a 6-4 Mets loss to the Nationals.
Harvey now has one loss and nine no-decisions in 17 starts, giving up one run or fewer in six of them.
"He got us again where we had to get to," manager Terry Collins said, bemoaning only what came next.
Staked to a three-run lead, the first three relievers out of New York's bullpen each allowed a run in the eighth. After David Aardsma, Josh Edgin and Brandon Lyon loaded the bases on two hits and a walk, Lyon served up a bases-clearing double to Ryan Zimmerman to tie the game at 4. In a non-save situation one inning later, Bobby Parnell allowed doubles to the first two men he faced -- one of them on what he and catcher John Buck both considered an excellent pitch to Jayson Werth -- and a sacrifice fly to take the loss.
"You want to win them all," Parnell said. "But they're professional hitters, too, and professional players. They're trying to win just as hard."
Over the first seven innings, Harvey was brilliant yet again, holding the Nationals to one run. In his continued bid to start the All-Star Game for the National League, Harvey submitted his seventh career double-digit strikeout game and fifth consecutive quality start, allowing one run or fewer in four of them.
He retired the first 14 Nationals he faced with seven strikeouts. Ian Desmond finally snapped that streak by golfing a curveball -- a rare offspeed offering that took a bit too long to dip out of the strike zone -- into the left-field seats.
"It was just a curveball that I left hanging over the plate," Harvey said. "I don't know if he was sitting on it or not, but obviously it wasn't where I wanted it. He put a good swing on it and crushed it, to be honest with you."
Though Harvey turned relatively mortal after that, allowing stray hits in the sixth and seventh innings, he held the Nationals to just that one run through seven. It was enough to lower his NL-leading ERA to 2.00 and increase his league-leading strikeout total to 132.
"This morning when I woke, I thought he had no-hit stuff," said Desmond, whose banner day included the go-ahead double off Parnell in the ninth. "He's always got no-hit stuff. He throws 97 miles per hour with a breaking ball, cutter, slider, changeup, everything else. He has it."
But with his ace at 109 pitches after seven innings, Collins decided not to bring Harvey back out for the eighth, knowing he is on pace to pitch far more innings this season than ever before. If the manager bemoaned any of his decisions, it was the choice to remove Aardsma from the game with two outs in the eighth and a runner on first.
"It's easy to sit here right now and … say you should have made this move, you should have made that move," Collins said. "It's a very easy thing to say."
Early on, the game never seemed as if it would come down to second-guessing. Harvey received an early run of support on Desmond's throwing error in the fourth, which allowed David Wright to score. Then Byrd and Josh Satin added back-to-back RBI hits off Nationals starter Ross Detwiler in the fifth, providing Harvey with a significant cushion. It was one of a career-high three hits for Satin, who knocked in two runs.
Byrd, whose starring role in Thursday's victory included a go-ahead home run and key outfield assist, also made a diving grab of Anthony Rendon's liner to preserve Harvey's no-hit bid in the fourth.
"I was thinking no-hitter, trying to catch everything," Byrd said. "He has a chance every time he's out there, because he's so good. It's one of those things where you pick up your defense just a little bit more."
Understanding that he represents their best chance to win, the Mets try to accelerate all aspects of their game for Harvey. So it is both puzzling and disappointing for them to realize that, despite Harvey's excellence, the Mets have won just five of his last 12 starts.
"That's baseball," Harvey said. "It happens. Today just happened to be one of those days."
Anthony DiComo is a reporter for MLB.com. Follow him on Twitter @AnthonyDicomo. This story was not subject to the approval of Major League Baseball or its clubs.