Kluber, Indians undone by Orioles' fifth inning
Kluber, Indians undone by Orioles' fifth inning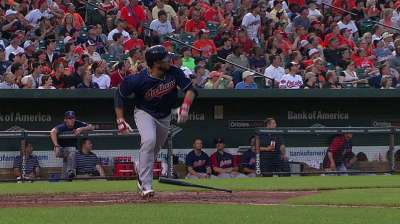 BALTIMORE -- The maturation of Corey Kluber has been a highlight of this first half for the Indians. For four innings on Thursday night, the right-hander appeared poised to add another entry to his growing list of solid starts for Cleveland.
The evening changed course in a hurry.
Baltimore churned out five runs in a relentless fifth inning, sending Kluber to the showers early and the Indians on their way to a 7-3 loss at Camden Yards. The only thing that slowed down the Orioles was a rain delay that interrupted the seventh for an hour and 18 minutes.
"It was a great game, and then it was a long night for us," Indians manager Terry Francona said. "We played a good team. Against a team like that, if you make a mistake, you'll pay for it."
For Cleveland, the loss sent the club out of town with a split of the four-game series in Baltimore. It was still just the fifth loss in the past 15 games for the Indians, who are off to Chicago for another four-game set that includes a doubleheader on Friday.
Kluber headed into Thursday's game sporting a 2.77 ERA over his last eight outings for the Indians (40-38), providing some stability to a starting staff that has experienced its share of adversity this season. The right-hander put the leadoff man on in three of the first four frames, but exercised strong damage control in limiting Baltimore to Ryan Flaherty's two-run single in the second.
That gave the Tribe's offense some time to get to work against Orioles starter Miguel Gonzalez, who logged 6 2/3 innings en route to a win. Lonnie Chisenhall belted a solo home run off Gonzalez in the second and added a run-scoring double down the right-field line in the fourth. In the fifth, shortstop Mike Aviles pulled a pitch from the righty into the left-field stands to push the Tribe in front, 3-2.
Gonzalez struck out nine and walked none for the Orioles (44-35).
"We played well early on, and then it got away from us," Chisenhall said. "And then we had the rain delay, so it kind of dragged that out. We didn't play so well today, but splitting with these guys isn't that bad."
In the home half of the fifth inning, it was Flaherty who initiated Kluber's unraveling.
"It was kind of a wild inning," Flaherty said of the fifth. "A little bit of everything."
Flaherty led off the frame with a single to left field and then advanced to third on a base hit to center from Nate McLouth. Kluber followed with a strikeout against Manny Machado, who was ejected by home-plate umpire Will Little for arguing the final strike ruling. Orioles manager Buck Showalter got into a heated exchange with Little as the Camden crowd roared.
Baltimore's house got even louder a few moments later when Nick Markakis sent a pitch to center for an RBI single that pulled the game into a 3-3 deadlock. Adam Jones then dumped one of Kluber's offerings into shallow right for a base hit, loading the bases for Orioles slugger Chris Davis.
Davis chopped a 2-1 slider to the right side, where second baseman Jason Kipnis attempted to start a double play with Aviles. Jones was ruled safe initially, but he thought he was out, so he left the base and was called out for technically abandoning the base. Aviles was unable to relay the ball to first in time for a double play, allowing the go-ahead run to score.
"It's a matter of execution," Kluber said. "They're a really good offensive team. When you make multiple mistakes in one inning, they can add up in a hurry against a team like that."
Matt Wieters kept Baltimore's push going by drilling a pitch to the wall in right field, where outfielder Drew Stubbs fumbled the ball for an error that opened the door for the Orioles catcher to reach third base. Two runs scored on the play, putting the Indians in a swift 6-3 hole.
Kluber then experienced his own gaffe that served as a fitting summation of his night.
Orioles shortstop J.J. Hardy chopped a pitch to the left side of the diamond and Kluber hustled off the mound in pursuit. The pitcher bent to glove the grounder and instead kicked it into foul territory while Wieters easily scored from third.
"It's funny all the things that run through your head in that short period of time," Kluber said. "I was thinking to myself, 'OK, just eat it. He's probably going to beat it out.' Then it was, 'No, I saw he didn't get out of the box that great, so maybe I should slide and try to throw it.' ... 'No, let's just grab it and try to make an off-balance throw.'
"And then, yeah, I just missed it."
Kluber surrendered a season-high 11 hits and lasted just 4 2/3 innings, marking his shortest regular outing since May 10 against the Tigers. Kluber only logged two innings on May 31, but that was due to a rain delay. In his seven other starts over that same time period, Kluber worked into the sixth inning in every game.
"He's a smart kid and he gets it," Francona said. "He just had a real tough inning and he'll bounce back. ... I saw him looking at the video in the rain delay. He's a mentally tough kid, and he wants to get better."
Jordan Bastian is a reporter for MLB.com. Read his blog, Major League Bastian, and follow him on Twitter @MLBastian. This story was not subject to the approval of Major League Baseball or its clubs.