Mets edge Rockies at Coors on late blast from Byrd
Mets edge Rockies at Coors on late blast from Byrd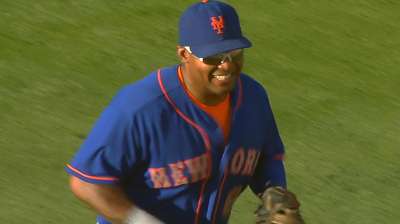 DENVER -- It was nearly 70 degrees warmer than the April evening when Thursday's game was originally supposed to be played, but if anything, the 95-degree game-time temperature cooled the bats of both the Mets and Rockies. After scoring a combined 43 runs in three cold-and-snowy games on April 16 and 18, the two clubs combined for five runs in the makeup of the April 17 snowed out game as the Mets topped the Rockies, 3-2, on their one-day swing through the Mile High City.
After trailing most of the game, New York seized the lead in the eighth inning on the sizzling strength of a Marlon Byrd two-run clout into the seats in left-center field that reversed a one-run deficit for the game winner.
"The heat is always better," Byrd said of the improved game conditions that more closely resembled his youth in Florida and Georgia than the wintry April games had. "I grew up down south, so the cold has never been good. It was a real good day to play baseball, and to come out with a win was even better."
Byrd figured prominently in the win, both by providing the margin of victory with his roundtripper and by protecting the lead in the bottom of the ninth with a dramatic outfield assist from right to second to throw out Rockies slugger Michael Cuddyer as he led off the final frame by trying to turn a single into a double.
"Cuddyer know how to play the game, and he was trying to put pressure on the defense," Byrd said. "I just came up and made a decent throw."
Byrd is the rare player who still makes throwing to the bases a part of his daily routine.
"He's playing no doubles, which means he's playing back, trying not to get a ball hit over his head," Cuddyer said. "He wasn't running after the ball particularly hard, so I thought I had a read, and it took a perfect throw to get me. Kudos to him, he made it."
Rockies starter Tyler Chatwood was nearly untouchable through the first four innings, as only Omar Qunitanilla was able to reach base, drawing a one-out walk in the first. Chatwood retired the next 11 Mets in order, taking a no-hitter into the fifth inning.
"We've seen him twice," Mets manager Terry Collins said. "We saw him two years ago when he was with the Angels. We had the same results: not very good. He's got great stuff. He's got good late movement on his fastball, that's why all the ground balls, yet he can throw 95 when he wants it. His breaking ball was better than we saw it two years ago. He's a good pitcher."
Colorado, meanwhile, got on the board in the second, as Cuddyer slapped a leadoff single to center to extend his hitting streak to 24 games, the longest streak in MLB this season. Wilin Rosario followed with a double to left to put runners on second and third with nobody out, and Todd Helton plated the game's first run with a sacrifice fly to center.
Colorado added to its lead on a grounder to third from Nolan Arenado. Zach Lutz fielded it cleanly and threw out Arenado at first, but first baseman Josh Satin threw wildly to third in an attempt at completing a double play, with his ball bounding into foul territory as Rosario scored an unearned run to give the Rockies a 2-0 lead that held up until the eighth inning.
Key to containing Colorado was keeping Carlos Gonzalez hitless in four at bats, including two trips to the plate with a runner in scoring position and two outs.
"He's a guy that likes to get his arms extended and pull the ball, so curveball wasn't going to be a very good pitch to him, but we wanted to crowd him," Mets starter Jeremy Hefner said. "We did a really good job of that the first two at-bats. Once he knows that we're going to come in, the outside of the plate's wide open. The last at-bat we threw a couple changeups away and he grounded out. He's the scariest guy in their lineup, and we handled him pretty well."
New York finally got to Chatwood in the fifth, getting a relatively big inning out of a smattering of small ball. Satin drew a walk to open the inning and Lutz blooped the Mets' first hit into shallow right, a step shy of Cuddyer. Juan Lagares legged out an infield single on a bunt to third to load the bases, and after Anthony Recker grounded into a 5-2 fielder's choice to keep a run from scoring, Hefner followed with a 6-4 fielder's choice that brought Lutz home and put the Mets within one.
Hefner pitched a strong six innings, holding Colorado's lineup to five hits and a walk while striking out three and allowing two runs, one earned. Hefner didn't figure in the decision, but it was his sixth quality start in his last seven trips to the hill.
"I think I gave up two homers in one inning the last time I pitched here earlier in the year," Hefner said. "I was freezing cold, we were in the middle of seeing snow for a week. It was different. We're a different team for the most part. There's a renewed spirit, I think."
As the Mets wrapped a 7-4 road trip, the renewed spirit was evident throughout the clubhouse.
"We didn't come here for a 100-loss season," Byrd said. "We didn't come here to play for fourth place. We came here to win. It's just one of those things where we were in a funk for too long, and we're coming out of it."
Owen Perkins is a contributor to MLB.com. This story was not subject to the approval of Major League Baseball or its clubs.