After early runs, Rockies bats go quiet in loss to Mets
After early runs, Rockies bats go quiet in loss to Mets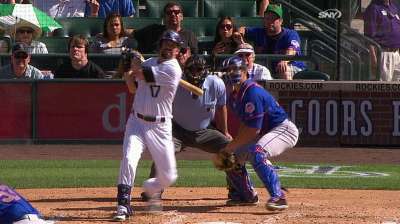 DENVER -- When Michael Cuddyer led off the second inning with a single that gave him a franchise record 24-game hitting streak and two runs soon followed, it looked like the Rockies would embrace their friendly home confines and shake a tumultuous road trip. But that refreshing mood was quickly extinguished, as Colorado never scored again in a 3-2 loss to the Mets at Coors Field on Thursday night.
All it took to spoil another strong outing from starter Tyler Chatwood was one fluid swing from Marlon Byrd against the bullpen. Chatwood and reliever Rob Scahill allowed just five hits combined through seven innings, but things didn't go so smoothly for Matt Belisle (4-5).
Facing a 2-2 count, Byrd belted a Belisle fastball that floated over the heart of the plate into the left-center bleachers. Byrd's 12th homer came with Daniel Murphy on second and gave the Mets a one-run lead that held for the remainder of the game. Mets reliever LaTroy Hawkins got the win (3-1).
"I thought he was trying to come in, but he just missed the spot," Byrd said. "He was trying to go away and it came back over the plate. I just put a good swing on it."
Belisle has allowed at least two earned runs in five of his last seven appearances. But the big league veteran is confident he will bounce back quickly.
"I think it's part of my due diligence now to continue what I know I'm good at, simplify this game, and just get after it aggressively and know that I'll get out of this," Belisle said.
Murphy reached when second baseman Josh Rutledge and shortstop Jonathan Herrera collided in the infield as they both attempted to make a play on the grounder.
The loss was the Rockies' eighth in their last 10 games and extended their losing streak to three games. It came in the opener of a seven-game homestand and pushed Colorado two games under .500 for the first time this season.
Still only four games back of the D-backs in the National League West, manager Walt Weiss and Co. know they can't allow opportunities like Thursday night slip from their grasp.
"June and July are tough months, because it's right smack dab in the middle of the season," said Cuddyer, who finished 3-for-4. "The first couple months you're excited, adrenaline's flowing, game's started. The last couple months, especially if you're playing meaningful baseball, it's exciting every day."
Trying to stir up some kind of offensive production, Cuddyer and DJ LeMahieu each made aggressive plays in the final two innings that ended up costing Colorado scoring opportunities. After a leadoff single in the eighth, LeMahieu was caught stealing second.
In the ninth, Cuddyer tried to stretch a leadoff single into a double on a fly ball into right, but was thrown out at second by Byrd.
"We had a couple guys trying to force the issue," Weiss said. "DJ thought he had something and went first move on a left-hander. They made a couple good throws there to get him, and Cuddy same thing -- trying to force the issue, it didn't work out."
The Rockies' offense got rolling behind the flaming bat of Cuddyer, who singled in the second to surpass hitting coach Dante Bichette's 23-game streak in 1995.
With the newest name in the Colorado record book on first, catcher Wilin Rosario doubled into the left-field corner, and Todd Helton drove Cuddyer home on a sacrifice fly. An errant throw by first baseman Josh Satin rolled into foul territory and allowed Rosario to cross home for the 2-0 lead.
Chatwood continued to solidify his place as one of the Rockies' most reliable starting arms, pitching four hitless innings and eventually allowing just one run through six with a pair of strikeouts and three walks. It was Chatwood's eighth consecutive outing of surrendering two runs or fewer and lowered his ERA to 2.13, best among Colorado's starters.
Struggling to place the ball precisely where he wanted, Chatwood was able to get 10 ground-ball outs and relied on the infielders behind him to walk away relatively unscathed.
"I really didn't have very good command at all today," said Chatwood, who picked up his second straight no-decision. "So to be able to keep our team in the game like that, I was happy with it."
Chatwood ran into trouble in the fifth, loading the bases with no outs after opening the inning with a walk and a pair of singles. But even then the right-hander escaped with only one run to his name. He got some help from his defense when third baseman Nolan Arenado scooped up a ground ball and threw out the runner at home.
Mets starter Jeremy Hefner followed with a groundout to plate the Mets' first run, and left fielder Carlos Gonzalez made a sliding grab in foul territory to end the inning.
Hefner proved more efficient than Chatwood on the mound, needing only 80 pitches to make it through six innings, giving up just one earned run and a walk.
Mets closer Bobby Parnell sealed the Rockies' fate with a scoreless ninth, good for his 14th save.
Ian McCue is an associate reporter for MLB.com. This story was not subject to the approval of Major League Baseball or its clubs.