Ankle improving, Doumit remains out of lineup
Ankle improving, Doumit remains out of lineup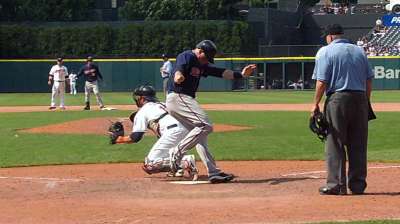 MINNEAPOLIS -- Despite his third straight absence from the lineup Thursday night at Target Field, Ryan Doumit was available off the bench.
The Twins catcher -- who sprained his right ankle in the ninth inning while trying to score Sunday at Cleveland -- is feeling better and is "absolutely" ready to go if needed, according to manager Ron Gardenhire.
"He said he felt great," Gardenhire said. "Everybody said he moved great, his ankle was good. He came out like he was throwing people out. He said he didn't really feel much at all. And that's a good thing because we were a little worried about that."
Gardenhire also noted that Doumit is a bat he'd like to have in the lineup, especially given how well he has swung lately. From June 14-22, Doumit hit at a .281 clip with a .361 on-base percentage and a .375 slugging percentage. With nine hits in that stretch, Doumit hit three doubles and picked up two RBIs. He also walked four times and reached once on an error.
"I like him in the lineup a lot," Gardenhire said. "But when you have those guys like him sitting on the bench, it does -- especially a switch-hitter -- it gives you a little bit of a weapon off the bench, especially in a tight situation where you need a big hit, you can run him out there."
Kelly Erickson is an associate reporter for MLB.com. This story was not subject to the approval of Major League Baseball or its clubs.