Tejada has to earn shortstop role back from Quintanilla
Tejada has to earn shortstop role back from Quintanilla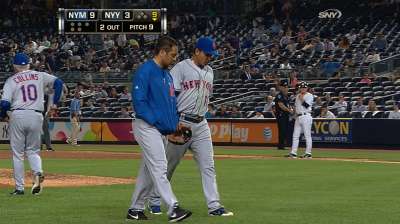 DENVER -- Ruben Tejada won the Mets' starting job at shortstop in 2012, after Jose Reyes departed for Miami as a free agent in the offseason. He was the starting shortstop again on Opening Day in 2013 -- in fact, the only shortstop on the Mets' roster, until he went on the disabled list on May 30 with a right quad strain.
But according to manager Terry Collins, when Tejada completes his upcoming rehab assignment, he'll have to battle Omar Quintanilla, who has put a stranglehold on the position since coming up to take Tejada's spot on the roster.
"Based on what we've seen right now, Ruben's got to go earn it back," Collins said of the starting job at shortstop. "He's got to go play, get his game together, get himself in top shape. We know he can. But there's no reason why we're going to take this kid out of the lineup, unless it's fatigue. He's played very, very well offensively and defensively."
Tejada is scheduled to start rehab games this weekend, most likely in the Gulf Coast League. He was hitting .209 (39-for-187) with 10 RBIs in 50 games when he went on the DL.
"Once he's worked himself up to seven or eight innings, he'll probably be on his way to either Double-A or Triple-A and start playing every day," Collins said. "When that time comes, when he comes back, we'll have a decision to make. But right now it's too far down the road. I'm not going to take Q out of the lineup at this particular time."
Quintanilla is hitting .253 (22-for-87) with two homers and nine RBIs in 23 games, and has come on strong of late, hitting .300 (9-for-30) with five RBIs over his last nine games entering Thursday.
Quintanilla is with his fourth team in five years, including a two-year stretch from 2010-11 when he played a total of 11 big league games. He debuted with the Rockies in 2005, went to Texas in '11 and started '12 with the Mets, but was sent to Baltimore in July. He returned to the Mets as a non-roster invitee to Spring Training in 2013.
"He thought he had a chance to make the club out of Spring Training as a backup, but due to some things, he didn't," Collins said. "He got his chance, and when you look at yesterday's game, he made three plays that might have saved the game for us. To tell a guy who's come up and hit like he's hit and played defense like he's played that all of a sudden he doesn't have a job -- he's earned a right to be out there right now."
Owen Perkins is a contributor to MLB.com. This story was not subject to the approval of Major League Baseball or its clubs.