Wright out of Mets lineup for second time in '13
Wright out of Mets lineup for second time in '13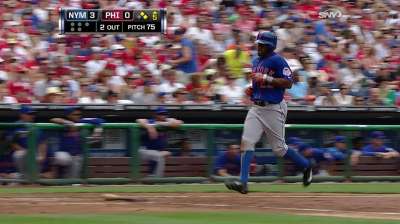 DENVER -- At least one element was missing from Thursday's makeup game in Colorado, and that was Mets third baseman David Wright, who missed just his second start of the season.
It's tough to keep Wright out of the lineup any day, and especially tough at Coors Field, where he has his highest average in any park with more than 15 at bats. Wright has hit at a .392 (47-for-120) clip in Colorado, with 10 home runs and 38 RBIs in 32 games.
"In a perfect world, I like to play at home and against our division rivals," Wright said. "So that leaves very few choices as to when [to rest]. We don't ever determine an off-day by where or what you do at a ballpark, at least I don't. And travel, obviously, getting in late last night, getting back to New York late tonight, [manager Terry Collins] and I thought today made sense."
In his nine previous big league seasons, Wright has played between 154 and 160 games in every season except his first in 2004, when he came up for 69 games after splitting time at Double-A and Triple-A, and the 2011 season, when injuries limited him to 102 games. He's never had illusions of Cal Ripken-esque strings of 162-game campaigns, but he's grown increasingly sensible about the need to pace himself over a long season.
"It would be nice, but on the other hand, I'd rather try to play 155, 156 and have a little more quality than just go out there for the sake of saying that you've played 162," Wright said. "Going into the season, you're gung ho, and the work you do in the offseason, you tell yourself, 'Let's try and play them all this year.' And then once you get a couple months into the season, you start re-evaluating that.
"You want to play. Everybody in here is built to want to play. Sometimes it's good when [Collins] comes up and says, 'Hey, I want to give you a day.' Sometimes it's better to go ahead and take it, because it's kind of good for you in the long run to get a few of these."
Collins' only reservation about resting his most productive hitter every 75 games or so was giving opposing teams or fans the impression that the Mets are holding back with what they're putting on the field.
"I don't want to insult anybody, including the people who come to see us," Collins said. "A lot of them are coming to see David Wright, because he's the name and face of the team. When you pay, you hope to see the best people in the game. We've got David Wright available. If we need him late, he'll be there."
Owen Perkins is a contributor to MLB.com. This story was not subject to the approval of Major League Baseball or its clubs.