Tulowitzki playing catch, but still can't swing a bat
Tulowitzki playing catch, but still can't swing a bat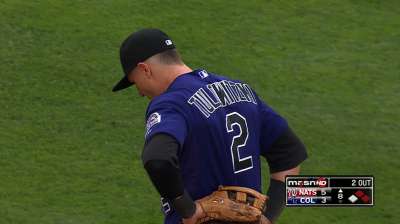 DENVER -- Rockies shortstop Troy Tulowitzki is making steady progress as he nurses a broken right rib, and he said Thursday that he has taken part in light catching but still can't swing a bat.
Two weeks removed from the dive into the infield dirt that caused the injury, Tulowizki is still dealing with some pain, but has seen noticeable improvement.
"It feels like a bruise, but overall, compared to when you guys last talked to me [days after the injury], I feel a lot better," Tulowitzki said.
There is still no precise timetable on when the All-Star shortstop, expected to miss 4-6 weeks, will be back in the lineup. But he said the Rockies' homestand should help with his rehab process because the full training staff is back in Denver rather than on the road.
As the midseason mark approaches, Tulowitzki said his goal is for the Rockies to still be in the National League West race in the final months of the season. Despite falling to 39-40 after a tumultuous road trip, Colorado remains three games back of the first-place D-backs entering Thursday.
"I've been on the opposite end where that last month is meaningless, you're going out there to get some of the younger players better, to pad your numbers, whatever it is," he said. "But it's not the same. You're already out of it and it's just not the same. You sign up to try to win the whole thing, or at least I did."
While Tulowitzki admitted seeing his team in the heat of the postseason race makes him that much more eager to take the field, he knows his limits.
"Knowing that there's an opportunity there, that other teams are leaving us right there, makes me want to get back out there quicker, no doubt," Tulowitzki said. "But at the same time, I've been here before, so I know when that right time is going to be when I'm healthy. Not rushing this thing."
Ian McCue is an associate reporter for MLB.com. This story was not subject to the approval of Major League Baseball or its clubs.