Closer Betancourt set to come off DL on Friday
Closer Betancourt set to come off DL on Friday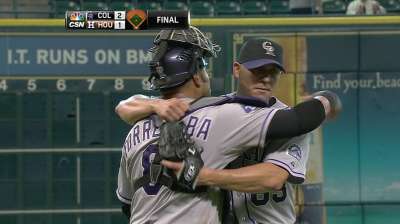 DENVER -- Rafael Betancourt expects to be back in uniform as the Rockies' closer Friday after a stint on the disabled list.
The Rockies placed Betancourt on the 15-day DL on June 1 with a groin injury, and through his absence he has held onto his closer's role. Rex Brothers became Colorado's default closer when Betancourt was out, extending his scoreless-innings streak to 29 innings and converting three save opportunities.
Betancourt has pitched through injuries all year and nearly landed on the DL with the same injury in mid-May, but tried to pitch through the pain.
"I'm glad the time it took worked," Betancourt said.
The seasoned closer should provide an immediate boost to a bullpen that has been relied upon heavily despite dealing with several injuries. Betancourt has a 3.20 ERA and 11 saves, picking up his third loss in his last appearance on May 31.
But Betancourt is hesitant to say his return will have a dramatic impact on a team reeling after winning only two games during a nine-game road trip.
"I don't like to say, 'Because I'm back now, we [will get much better]," Betancourt said. "It's everybody there and the whole team. That's how it is. You're never going to win with one guy. That's never going to happen."
Ian McCue is an associate reporter for MLB.com. This story was not subject to the approval of Major League Baseball or its clubs.