Pomeranz will reportedly start for Rox on Sunday
Pomeranz will reportedly start for Rox on Sunday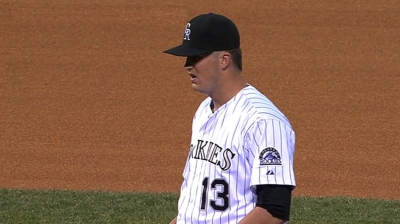 DENVER -- While the Rockies haven't announced anything, Drew Pomeranz will take the mound at Coors Field on Sunday against the Giants for the first time in nine months, according to a report in the Denver Post.
Pomeranz was scheduled to start for Triple-A Colorado Springs on Thursday night, but was removed from the lineup before the game, drawing speculation that he will start in place of the struggling Juan Nicasio.
Pomeranz, a former first-round Draft pick acquired from the Indians in the 2011 trade for Ubaldo Jimenez, has a 4.20 ERA and 8-1 record in 15 starts with Colorado Springs. He has a 4.24 ERA in six starts at Security Service Field in Colorado Springs, a notoriously difficult place to pitch.
Pomeranz started 22 games with the Rockies last year, but largely struggled, collecting a 4.93 ERA and never making it through the seventh inning.
The highly touted lefty has given up two earned runs or fewer and lasted at least 6 2/3 innings in his last two starts. However, his time with Colorado Springs has also been marred by inconsistency, as Pomeranz has allowed five earned runs or more in four starts and he has lasted through the seventh just once.
But Rockies manager Walt Weiss said Pomeranz, who leads the Pacific Coast League with 96 strikeouts, has made significant strides.
"I think with him it's being able to use the secondary stuff and not be so reliant on the fastball," Weiss said. "It sounds like he's done that …. mixed in his secondary stuff, a little more efficient. He's always had the deception, and I think a good finish to his fastball, and I think that makes it tough on hitters."
Pomeranz, 24, made his big league debut with Colorado on Sept. 11, 2011.
Ian McCue is an associate reporter for MLB.com. This story was not subject to the approval of Major League Baseball or its clubs.