Young returns to Coors Field for first time with Mets
Young returns to Coors Field for first time with Mets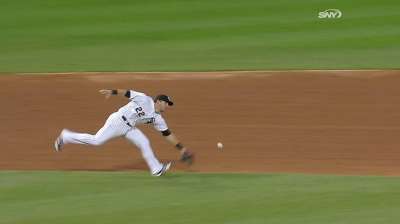 DENVER -- Even if Eric Young Jr. was sporting a new haircut since joining his new team nine days ago, it was easy enough to find his locker in the visiting clubhouse at Coors Field. It was the one with the Rockies duffle bag in front of it.
Young is fully equipped with Mets gear since the June 18 trade from the Rockies, the only club he had ever known, but his old club saved some shipping and brought his extra stuff to his new clubhouse when Young and the Mets pulled into the Mile High City for a one-day stop to make up a snowed-out game from April 17.
Young left the Rockies hitting .242 (40-for-165) in 57 games as the team's fourth outfielder. In seven games with the Mets, he's hitting .414 (12-for-29) with six RBIs, and had a five-game hitting streak entering Thursday.
"Just being out there, being able to get the kinks out," Young said to explain why he's been on fire as the Mets' new leadoff man. "The first couple days in Atlanta I was nervous, and then continuing to see my name in the lineup, I just go out there and play."
For Young, who was born in New Brunswick, N.J., and was drafted by the Rockies in the 30th round of the 2003 First-Year Player Draft, the move to a starting role with the Mets was one of the best outcomes he could have envisioned when the Rockies designated him for assignment.
"The first couple days I was just kind of uncertain," Young said of the period before the trade was completed. "A lot of people here in Colorado were sad to see me go, so in turn it was making my wife and me sad, but the last couple days was just more anticipation and anxious to find out where you're going. Obviously when I heard the news, it was exciting to get going again.
"Anytime you go a place where you're wanted and needed, it's big. It's awesome to have an opportunity here with the Mets, as well as it's close to home."
Young has been on the road since joining the Mets, so the detour to Colorado before a homestand in New York is the closest he's been to home since leaving the Rockies. When he suits up in Queens on Friday to open a series with the Nationals, it will be his first game at Citi Field, despite playing in his fifth big league season.
"Last year was my first time going to New York, and I went on the DL stint right there at Citi Field," Young said. "So I've never actually played a game at Citi Field, and it'll be my first time tomorrow. It's going to be a lot of firsts for me tomorrow."
It will also be the first time his family and friends have been able to see him play without having to travel.
Young has taken the move in stride, bearing no hard feelings toward the Rockies and quickly adapting to the needs of his new team, even moving into his old position at second base after a double switch.
"We're glad to have him," manager Terry Collins said of his new left fielder. "I'm anxious to see how he handles Citi Field, I really am. It might be a park made perfect for him. He's at the top of the lineup, and he's made a huge contribution so far. His personality fits in perfect. First-class guy and he loves to play. Maybe this is his chance to show us what he can do."
Owen Perkins is a contributor to MLB.com. This story was not subject to the approval of Major League Baseball or its clubs.