Batterymates Navarro, Garza power Cubs to win
Batterymates Navarro, Garza power Cubs to win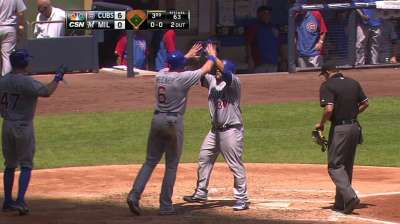 MILWAUKEE -- Dioner Navarro gave Matt Garza even more reason to want him as his personal catcher.
Navarro belted a three-run homer to back Garza, who struck out 10 over seven innings, and power the Cubs to a 7-2 victory Thursday against the Brewers for their first series win at Miller Park since Sept. 10-12, 2010.
Garza gave the many scouts in attendance representing teams in need of starting pitching something to think about. The right-hander, who seems to be the subject of trade rumors every season, has given up two earned runs over 22 innings in his last three outings. He's not worried about any speculation.
"My job is to get ready for every five days, and get out there and perform and do what I have to do and be at my best every five days," Garza said. "Rumors have been part of my entire career, so it's nothing new. I just play every five days for the 25 guys in here."
He can even remember the first time he heard his name mentioned in a possible deal.
"It was pretty awesome," Garza said. "The first one I remember was me for [Alfonso] Soriano to the Nationals. I was like, 'Oh, wow, a 40-40 guy -- yeah.' Now, it's just, whatever. I just keep plugging away. Someone asked me the other day, 'Do you sit by your phone?' I said, 'No.' No phone calls, no worries, guys. I'm not too worried about it. I've got Oakland in five, and I'll see you guys in Cali."
Navarro has been behind the plate for Garza's last three games, a combo Cubs manager Dale Sveum has tried to downplay.
"It doesn't matter who's catching you if you have fastball command," Sveum said.
"I was with the guy a long time and I know what he's capable of," said Navarro, who played with Garza in Tampa Bay for three seasons. "He knows what he's doing out there. He's just doing a great job. He's locating his fastball on both sides of the plate and pitching out of jams."
After missing all of Spring Training because of a strained lat, Garza made his eighth start of the season. He's in a good groove.
"I feel pretty good mechanically, physically, mentally, just kind of attacking and getting back to where I was before I left," Garza said. "I like where I'm at, and I'm going to keep improving and try to get better every time out."
Garza appeared to be in total command. He did not give up a hit until Aramis Ramirez blooped a single to center with one out in the fourth. Ryan Sweeney made a diving attempt to get the ball, but missed.
"Sweeney trying to lay out for that first hit by 'Ramy' -- guys are trying, giving their all, even where we're at [in the standings]," Garza said. "We're out here playing, having a good time."
It helps to get some offense. Sweeney singled to open the second against Wily Peralta, stole second, and moved up on a wild pitch before scoring on Brian Bogusevic's perfectly placed double down the left-field line. One out later, Darwin Barney dribbled a single to right to score Bogusevic.
Sloppy play by the Brewers in the third led to four more Cubs runs. Starlin Castro led off with a single, stole second and scored on a fielding error by left fielder Caleb Gindl, who muffed Sweeney's fly ball. One out later, Bogusevic reached on an error by first baseman Juan Francisco, who couldn't handle Ramirez's throw from third base, and Navarro followed with his seventh home run to open a 6-0 lead.
"I've been through this the whole year," Peralta said. "Sometimes I make a good pitch and they get a bloop single. In the third inning, I just hung a slider I wanted down and away. It was middle-in and I give up a three-run homer."
All four Cubs runs in the inning were unearned and helped the Cubs open a 5-0 lead.
"It's a blast when they spot you seven before the fifth inning," Garza said. "My job was to go out there and put up a zero every time we could."
Navarro took a foul ball off his chin in the fifth inning, dropped to his knees and took a deep breath. Sveum said he came close to taking Navarro out of the game because the catcher was a little dizzy. Of course, he kept playing.
"You can't ask for anything more -- seven homers, 18 RBIs and an average of .250, .260, and he calls a great game back there," Garza said of Navarro. "You can't ask for anything else from a backup. I'm happy the guy is doing well."
"I work hard in the offseason," Navarro said. "Every opportunity I get, I try to do the best I can. I obviously don't try to hit a homer every time I get to the plate. I was fortunate enough to get one."
Garza helped himself in the fourth, hitting his second single of the game before scoring on Nate Schierholtz's sacrifice fly.
Navarro has heard all the Garza trade rumors, too.
"Nobody can control that, nobody can dictate what will happen in the future," Navarro said. "We just have to get ready for the next game. That's how he deals with it and that's how I know he'll continue to deal with it."
The Cubs do know what to expect from the right-hander.
"He's really loud every day," Navarro said. "He's a little bit quieter when he pitches. He gets in the zone on the day he pitches. He's going to be Garza, he's going to be like that forever. We just have to deal with him."
Carrie Muskat is a reporter for MLB.com. She writes a blog, Muskat Ramblings, and you can follow her on Twitter @CarrieMuskat. This story was not subject to the approval of Major League Baseball or its clubs.