Errors by out-of-position Crew prove costly in finale
Errors by out-of-position Crew prove costly in finale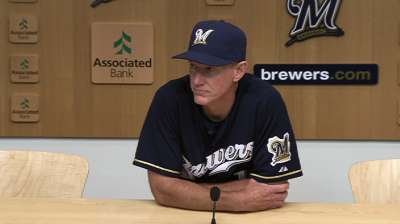 MILWAUKEE -- The Brewers entered Tuesday's series opener with the Cubs having won 18 of the last 20 against their National League Central rival at Miller Park. The comforts of home do not really hold an advantage, though, when your players aren't used to their positions.
The Brewers looked lost on their home field in the final two games of the three-game series, culminating with a second consecutive defensive collapse in Thursday's rubber match. Two third-inning errors, a strong Matt Garza start and a big day from Cubs backup catcher Dioner Navarro led to a 7-2 Chicago win and Milwaukee's third loss in the last four games.
Third-inning errors from left fielder Caleb Gindl and first baseman Juan Francisco led to four unearned runs for the Cubs. Gindl is typically a right fielder and Francisco a third baseman, but they have each adjusted to new positions, filling holes left by multiple Milwaukee injuries.
"We've got some guys that really aren't in their comfortable positions," Brewers manager Ron Roenicke said. "I know Gindl, we know is a good right fielder, and he's been playing left field ... he just doesn't look comfortable out there to me. The ball Francisco dropped today, if he's been there for years, he probably doesn't drop that ball.
"You make errors and they're piling up right now at a bad time."
Roenicke said afterward that Carlos Gomez may be back in Friday's starting lineup at Pittsburgh, pending an OK from team physician Dr. William Raasch.
Gomez's return to center field would move Logan Schafer to left, helping patch up a position that became a glaring issue against the Cubs.
"Not very good. Two bad games on defense, and they cost us," Roenicke said after the Brewers fell a game back of the Cubs for last place in the NL Central.
The Brewers spotted the Cubs two extra outs and four unearned runs with sloppy play behind starter Wily Peralta in the third inning, handing the visitors a 6-0 lead. With one on and one out, Ryan Sweeney lifted a fly ball toward the left-field line, where Gindl was in position to make a running catch. But the left fielder short-armed the ball and it grazed off the end of his glove to put runners on second and third.
It was Gindl's second error in left field in as many days. Gindl had no errors in 116 chances in the outfield at Triple-A Nashville, including nine games and 21 chances in left field, before his June 15 promotion to the Brewers.
Another careless mistake later in the inning worsened Gindl's miscue. With two out and runners still at second and third, Aramis Ramirez knocked down a sharply hit Brian Bogusevic ground ball. The third baseman threw to first for what looked like the inning's final out.
But on the knee-high throw to first, the ball bounced off the tip of Francisco's glove, scoring one run and setting up Navarro with runners on second and third.
Navarro wasted no time making the Brewers pay, launching Peralta's first pitch -- a slider -- into the right-field stands.
"I've been through this the whole year. Sometimes I make a good pitch and they get a bloop single," said Peralta, who dropped to 5-9. "In the third inning, I just hung a slider I wanted down and away. It was middle-in and I give up a three-run homer.
"It's really frustrating the way that we've been playing. When we get an error, I've got to be able to pick up my teammate and execute a pitch. I've got my next start in five days, so I just have to forget this one. There's another game coming up soon."
Peralta allowed eight hits and seven runs -- three earned -- walking one and striking out two over five innings.
Garza, meanwhile, was untouchable early for the Cubs. The right-hander brought a no-hitter into the fourth inning and retired 10 of the first 12 batters he faced. He had two strikeouts in each of the first four innings and finished with 10 while walking one and hitting a batter.
Garza improved to 3-1, throwing seven innings, and allowing eight hits and one earned run. He threw 101 pitches, 66 for strikes.
"It's a blast when they spot you seven before the fifth inning," Garza said. "My job was to go out there and put up a zero every time we could."
The Cubs got their first two runs in the second inning on a Bogusevic double and a Darwin Barney single that tipped off Peralta's glove for an infield hit, then took a 7-0 lead on a Nate Schierholtz sacrifice fly in the fourth.
Francisco hit a solo home run in the eighth inning off Chicago right-handed reliever Blake Parker. Francisco hit a solo home run in all three games against the Cubs and has nine homers on the year.
Schafer hit an RBI double in the sixth inning for Milwaukee's first run. Rickie Weeks extended his career-long hitting streak to 11 games, and Jean Segura posted his second 10-game hitting streak this month. Segura has hit safely in 20 of his past 21 games.
The Brewers began their six-game homestand by taking two of three from the NL East-leading Braves, but dropping two of three to the Cubs left Roenicke with few answers to the team's problems.
"In order for us to get back in this or even get close," he said, "we certainly can't play this type of ball."
Kevin Massoth is an associate reporter for MLB.com. This story was not subject to the approval of Major League Baseball or its clubs.