Solid Hughes takes tough-luck loss vs. Texas
Solid Hughes takes tough-luck loss vs. Texas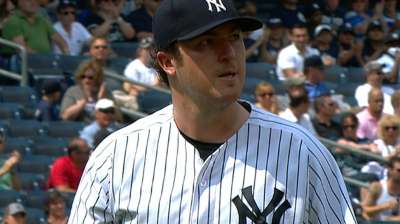 NEW YORK -- The Rangers spilled into the center of the Yankee Stadium infield, clapping Derek Holland on the back to celebrate his route-going effort, and Joe Girardi lingered at his dugout-railing perch for just an extra moment.
Wearing a look of disgust across his face, the Yankees manager fired a white towel into the air before retreating to his office. It was an appropriate snapshot for the afternoon as Holland fired a two-hit shutout, leading the Rangers to a breezy 2-0 victory.
"If you don't score runs, that becomes an issue," Girardi said. "I believe we're capable of scoring runs.
I think we can. But time will tell."
Holland needed just 92 pitches to mow down the batting order, holding New York to a pair of singles. It marked the seventh time this season New York has been shut out, once more than all of last year, and wasted eight innings of strong two-run ball from Yankees starter Phil Hughes.
"Phil threw the ball well today and deserved a lot more than what he got," Yankees outfielder Vernon Wells said. "You only give up two runs against a team like that, that's doing your job. We just couldn't get anything going against Holland."
The Yankees suffered their third defeat in the past four games as Holland beat New York for the first time in his career. The left-hander had been 0-5 with an 8.85 ERA in eight previous regular-season contests (seven starts) against New York.
"It's huge. I haven't had great success here, so to come into Yankee Stadium and throw a two-hit shutout was a big boost to my confidence," Holland said. "I came into a great ballpark against a good team and made a statement: two hits, 92 pitches. It's huge."
The record shows that Hughes has now lost his past three starts and also five of his past six decisions since May 15, but he surely deserved a better fate on a day when he limited the potent Rangers lineup to five hits in a 106-pitch outing.
"Trust me, I've gotten plenty of run support in the past," Hughes said. "Sometimes you're going to go through stretches where it's not there. We, as pitchers, just have to a better job of keeping us in the game."
Girardi offered Hughes a vote of confidence before the game in saying that, even with Ivan Nova and Michael Pineda knocking on the door, Hughes should not be considered as pitching for his place in the rotation.
Hughes said that he felt that his last week of side work with pitching coach Larry Rothschild had helped to iron out some mechanical adjustments with his plane toward home plate, while also straightening out his mental planning for the start.
"Whenever you're trying to get through some rough stretches, it helps just to take a deep breath," Hughes said. "I felt like it did me some good."
Texas pushed its first run across in the third inning on an Ian Kinsler sacrifice fly, a frame in which a Rangers rally against Hughes was dented by a bizarre play in which David Murphy advanced to second base on a walk but then wandered off the bag, where he was alertly tagged by shortstop Jayson Nix.
"That's why you show up. You see something that amazes you," Yankees first baseman Lyle Overbay said.
Hughes pitched out of a two-on, none-out jam in the fourth to escape damage, but he allowed a home run to Jurickson Profar to right field in the fifth.
Home runs at Yankee Stadium are nothing out of the ordinary for Hughes, but aside from that one mistake, Hughes clamped the damage, walking one and striking out five.
"He was really good today. He probably should have only given up the one run, the home run, but I thought he was really good," Girardi said.
Pleased with the outing but not the outcome, Hughes said that it has not been an issue to block out thoughts of being challenged for his rotation slot, saying that he has been hearing it for so long that it has become easy to know what to expect.
"Every time you throw the ball well, you want to build off that," Hughes said. "I certainly was going through a rough patch there, so to come out and have a good start, I guess, is a platform. But at the end of the day, you want to win every time out."
That task, of course, is made more difficult when there is zero run support. The Yankees advanced just one runner to second base, on Nix's fourth-inning stolen base, and it is not out of line to wonder if the lineup as presently constituted has enough firepower to hang in the race.
"I think we get into trying to do too much, and then it kind of snowballs a little bit," Overbay said. "We've got some good hitters. If we get those timely hits, we can be effective. We're not doing that right now."
Bryan Hoch is a reporter for MLB.com. Follow him on Twitter @bryanhoch and read his MLBlog, Bombers Beat. This story was not subject to the approval of Major League Baseball or its clubs.