Fister strong, but Tigers fall to Angels in 10
Fister strong, but Tigers fall to Angels in 10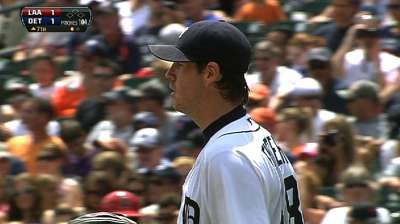 DETROIT -- The Tigers have looked dominating at times this season, and frustrating at others. Against the Angels, it's been frustrating the entire time, as they lost all six meetings -- three at home and three on the road -- this season after falling, 3-1, in 10 innings on Thursday afternoon at Comerica Park.
At times this season, the Tigers have struggled to play at their full potential. When they do, it seems that when the starting pitching has been good, then the bats have been quiet. If the offense is scoring runs, the pitching has been shaky.
"We had a lot of bad combinations going," manager Jim Leyland said. "We're all in this together, so it starts with me. When you get in a funk like this, you don't manage good enough, you don't hit good enough, you don't pitch good enough, you don't catch the ball good enough, you don't coach good enough. We're all in this together, and we'll all come out of it together."
Starter Doug Fister was back to his usual ways after an uncharacteristic start last week. Unfortunately, a quality start by Fister typically means the absence of run support for the Tigers, with the offense providing a total of seven runs in his last five quality starts.
"We got one run in 10 innings," Leyland said. "That's why we didn't win this game. We had our chances to win this game."
Angels starter Jered Weaver limited the Tigers to four hits over seven innings. Detroit hitters went 1-for-8 with runners in scoring position, after going 1-for-9 in the same situation during Wednesday's 7-4 loss to the Angels.
The lack of offense not only leaves little margin for error, it also stretches the bullpen thin. With lefty Drew Smyly having logged multiple innings from the bullpen -- although Leyland wants to limit his outings to one inning so he can pitch in back-to-back games -- the Tigers' only other southpaw setup man in the 'pen, Phil Coke, was called upon late in Thursday's game.
"Well, you've gotta pitch him," Leyland said. "It won't get going by sitting there. I wanted to give him an opportunity today to do something."
Coke entered the game in the 10th inning, and gave up three straight hits, including a go-ahead RBI double to Albert Pujols, who drilled an 85-mph changeup to the wall in center field.
"I felt like I made a good pitcher's pitch -- I don't feel like I made the perfect pitch to him by any means -- but I mean, the last thing I thought he was going to do was hit the ball as far as he did," Coke said. "It was away from him, I looked at where [catcher Brayan] Pena was set up, and [Pena] was going away from Pujols with his glove, going away to receive the ball, and [Pujols] found it with his barrel."
Said Pujols: "I just try to get a good pitch up. Try to put my best swing and trust my hands. When I'm doing that, I'm good at it, and that's what I was able to do right there. I felt like I got some good pitches today that I got a little bit under or rolled over on a couple times, but I guess I hit it when it counts."
Coke dropped to 0-5 with a 6.56 ERA in 24 appearances. Opposing hitters are batting .333 against him with runners in scoring position, including a .381 slugging percentage vs. a .224 batting average and .303 slugging percentage in 2012.
"I feel like I'm making pitches, and I'm getting beat," Coke said. "I feel like I'm not contributing in a positive way. And that's a tough pill to swallow, because I pride myself on what I do, and I haven't got anything to show for it. I don't feel like I have anything positive effect-wise on our team."
Fister became only the third Tigers starter to last more than six innings over the team's past nine games. With that equals a taxed bullpen, one that is facing 11 games in the next 11 days. Now that Joaquin Benoit has been moved to the ninth inning, Smyly, Coke and Al Alburquerque are going to split the setup duties.
Coke, however, still is working on finding his groove. Since June 8, he has pitched in three tied games, allowing four earned runs in 1 2/3 innings.
"I'm going out there and doing my best to actually keep the pitches I'm being asked to throw, Coke said, "and I don't have the results to show for."
Despite only four wins in the 10-game homestand, players may be angry, but they believe they're better than they've played recently.
"I'm annoyed right now, man," Coke said. "How do you think I feel right now? I'm not happy. I'm not excited about what I've done this season for this team. We are way too good to be where we are in the standing as it is overall record-wise. We are way too good; our bullpen is too good. We haven't clicked, I haven't clicked, it just hasn't happened. It's going to happen, it has to. Something has to give, and it's not going to be me."
Bobby Nightengale is an associate reporter for MLB.com. Follow him on Twitter @nightengalejr. This story was not subject to the approval of Major League Baseball or its clubs.