Weaver finds form as Angels sweep Tigers
Weaver finds form as Angels sweep Tigers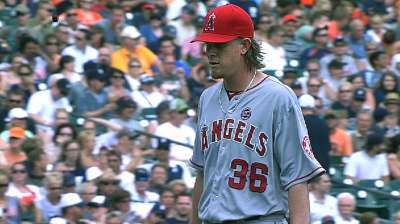 DETROIT -- The weeks continued to pile on and the Angels still hadn't seen the typical, dominant Jered Weaver, either because he was on the disabled list or because he was out of sync or because he wasn't throwing very hard.
And then, against one of baseball's most potent offenses, and with two of his rotation 'mates on the disabled list, there he was -- seven innings of one-run ball, and back-to-back strikeouts to punctuate it.
"It's something to build off of -- something to take into the next start," Weaver said. "It's definitely a confidence booster."
Three innings after Weaver left, the Angels got an overall confidence boost they badly needed, completing a sweep of the first-place Tigers with a 3-1 victory in 10 innings on Thursday, just before the rain came down. The Angels won all six games against the Tigers this season -- nine in a row against them dating back to last season -- and have their first three-game sweep at Comerica Park since 2002.
It was a pretty critical stretch for everyone.
For the team, which had been swept at home by the Pirates heading into Detroit and is in desperation mode as the All-Star break looms, still at seven games below .500 and 10 games out of first place.
For the bullpen, which gave up seven runs in the last two frames of a crushing extra-inning loss on Sunday and bounced back in a big way the last two days -- allowing only one unearned run in six innings on Wednesday night and shutting the Tigers out for the final three frames on Thursday afternoon.
And for the ace, who came in 1-4 with a 4.65 ERA in his first seven starts.
"Weaver's going to compete," said Albert Pujols, whose 10th-inning double to deep center field off Phil Coke plated the winning run. "I know he's been struggling the last three or four starts, but he's going to compete every time he takes the field and that's something that's pretty impressive. He can easily go out there and just throw, but he doesn't do that."
Weaver was making his first appearance at Comerica Park since July 31, 2011, a heated outing that ended with his getting ejected after brushing back Alex Avila with a fastball.
He pitched into the seventh for the first time this season, giving up only four hits and two walks while striking out six to drop his ERA to 4.15 -- and he seemingly got stronger as the game went on. He finished the seventh with back-to-back strikeouts -- the second coming on an 86-mph fastball, which is about the velocity he's been at this season -- and capped his outing with 11 consecutive batters retired.
"As the game went on, he got sharper," Angels manager Mike Scioscia said. "I thought he maintained his fastball and really finished strong. That was really a strong seven innings against a tough club on a really hot day."
"He certainly wasn't overpowering, but he paints the corners pretty good," Tigers skipper Jim Leyland added. "He's got outstanding control."
Weaver missed nearly seven weeks from early April to late May because of a broken left elbow, which he suffered in his second start of the season in Texas. Then, in his first five starts back, he posted a 4.55 ERA, giving up 17 runs (15 earned) while striking out 24 in 29 2/3 innings.
With Jason Vargas (blood clot) and Tommy Hanson (forearm strain) sidelined, Weaver picked a good time to find his form -- even though he doesn't feel like he did.
"Everything is pretty much the same," Weaver said. "I just limited the damage. I don't think the last couple of games have gone drastically bad. Obviously it's not what I'm used to, but I just want to concentrate on locating against a tough Detroit lineup they've got over there -- and I was able to do so for the most part."
Doug Fister basically matched Weaver pitch for pitch, giving up one run on seven hits in seven innings, and the Tigers (42-35) threatened shortly after Weaver exited, when Scott Downs gave up a one-out double to Omar Infante and hit Austin Jackson with a breaking ball in the dirt.
But Michael Kohn struck out Torii Hunter and Miguel Cabrera on a steady diet of mid-90s fastball to strand both runners and keep the game knotted at 1. Kohn hasn't allowed a run in 22 of his last 24 appearances.
"Any time you can go out there and come out of it with a zero, confidence just builds," Kohn said. "Knock on wood, it's been good."
J.B. Shuck, who entered Thursday with nine hits in his last 16 at-bats, ripped a single to right field to lead off the 10th off Coke, and Mike Trout did the same, giving him four hits to put his batting average at .316.
The next batter, Pujols, laced one to straightaway center field, which sits 420 feet away from home plate. Austin Jackson almost made a Willie Mays-style over-the-shoulder catch, but bobbled it and dropped it near the wall to give Pujols a go-ahead RBI double. After an intentional walk to Howie Kendrick, Josh Hamilton provided the insurance run with a sac fly.
And with that, the Angels got their third straight win.
They need many more.
"We just need to continue to fight and go to Houston and get ready to play," Pujols said, just before departing to Texas to face a last-place Astros team the Angels are 3-7 against this season. "We did it last time and caught a little funk, but we just need to continue to swing the bat and continue to pitch."
Alden Gonzalez is a reporter for MLB.com. Read his blog, Gonzo and "The Show", and follow him on Twitter @Alden_Gonzalez. This story was not subject to the approval of Major League Baseball or its clubs.