Flat sinker dooms Wang vs. first-place Red Sox
Flat sinker dooms Wang vs. first-place Red Sox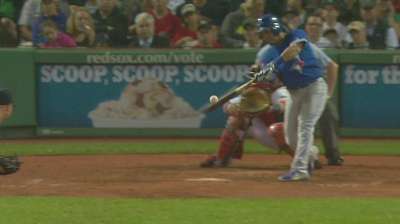 BOSTON -- The Chien-Ming Wang experiment still has a chance to yield a positive outcome, if it hasn't already. The Blue Jays had won all three of his starts prior to Thursday.
But against the Red Sox, a team Wang was often at the mercy of during his time with the Yankees, devastation might have been predictable.
Wang was able to record only three outs before the Sox turned a foggy game into batting practice. Seven straight reached base safely to start the second inning, and all seven scored as the Red Sox pounded a familiar foe on their way to a 7-4 win in the first of a crucial four-game American League East series.
"My sinker was flat," Wang said.
And when he doesn't have a strong sinker, a pitch he's thrown 76 percent of the time over the past two years, he's left without much.
"We had a pretty good understanding of what Wang was going to do to us," said Red Sox manager John Farrell.
Wang might've escaped the second inning before a two-run homer from Dustin Pedroia had the skies been clear. But Jose Bautista appeared to lose a deep fly ball off the bat of Stephen Drew in the fog. He chased it back to the right-field warning track, then jumped forward before the ball fell in off his glove. Wang produced a double play three batters later that would've let him escape and possibly pitch further, but he was pulled after Pedroia homered the following at-bat.
"That ball was tough," said catcher J.P. Arencibia. "I thought it was going to be driven further. All of a sudden it died."
It's hard to ask for more out of Wang. At $500,000 -- just $20,000 above the Major League minimum -- Wang is essentially a risk-free investment. At that price, a team tends to take whatever it can. And the way Wang had thrown before Thursday, he looked like a bargain.
But he's never been able to figure out the Red Sox, which makes his release by the Yankees, who chose to let him go rather than promote him earlier this month, all the more sensible.
After allowing seven runs in 1 2/3 innings before departing on Thursday, the 33-year-old right-hander has a 6.52 ERA in 48 1/3 innings at Fenway Park. Overall against the Red Sox, he has a 5.60 ERA in 88 1/3 innings.
Wang has now allowed 12 earned runs, 27 hits and seven walks while striking out 10 over 22 1/3 innings with Toronto.
"I mean, he looked good that first inning, getting some ground balls," manager John Gibbons said. "That second inning, the ball was coming up and they didn't miss them."
Even after his forgettable start Thursday, the Blue Jays might have no choice but to keep him in the rotation. Brandon Morrow is currently shut down with a forearm strain and J.A. Happ is still battling his way back after getting hit in the head with a line drive and injuring his right knee while falling.
Gibbons was asked if Wang would get another start, but he chose not to answer the question.
"He's pitched great for us," Gibbons said. "That's baseball. That happens. That can happen to anybody. He'll bounce back."
Meanwhile, Toronto's offense was mostly quiet against Jon Lester, who entered play Thursday in the midst of a massive slump, having allowed at least three earned runs and six hits in each of his last seven starts.
Maicer Izturis put the Blue Jays on the board with a two-run double in the fifth, but the veteran lefty contained the Blue Jays to just three hits until the eighth inning, when he allowed two runners to reach base before leaving the game with a sore right hip. Toronto loaded the bases with no outs, but it scored just a pair off a sacrifice fly by Jose Reyes and a groundout by Bautista.
While the Red Sox yawned at Wang's sinkers, they were far more entranced by the Blue Jays' bullpen, which shut down baseball's best offense over the next 6 1/3 innings following Wang's departure.
Aaron Loup (1 1/3 innings), Juan Perez (three innings), Brett Cecil (one inning) and Steve Delabar (one inning) combined to hold the Red Sox to just three hits the rest of the game.
Since adding Perez and Neil Wagner from Triple-A Buffalo on May 29, Toronto's bullpen ERA has been 0.95, best in the Major Leagues.
Jason Mastrodonato is a reporter for MLB.com. Follow him on Twitter @jmastrodonato. This story was not subject to the approval of Major League Baseball or its clubs.