Moore bringing more aggressive mindset to plate
Moore bringing more aggressive mindset to plate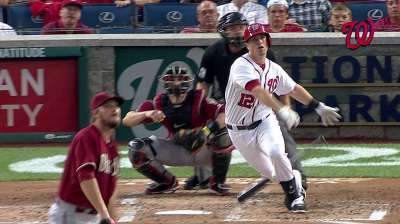 WASHINGTON -- While the numbers might not show it, outfielder Tyler Moore said his brief stint at Triple-A Syracuse did wonders for his approach at the plate.
Moore only recorded eight hits and batted .178 in 12 Minor League games, but he said the real progression didn't show up in the box scores. The demotion allowed the 26-year-old to get back to the basics and take a more aggressive mindset into the batter's box.
That mindset showed on Wednesday, as he crushed a game-tying home run in the fourth inning
"In the spring, he would get pitches that he'd normally drive and he would foul them off, like he was hurrying to get at them," manager Davey Johnson said. "That pitch he hit last night, there was no rush there. He's got a great stroke."
Moore was 15-for-95 (.158) with 36 strikeouts in his first stint with the Nationals. With a shortage of consistent at-bats, he put too much weight on each at-bat and drove himself into a slump. A few weeks at Triple-A helped him change all of that.
"[It's] just the feeling of competing with the pitcher on the mound instead of getting caught up in my own head at the plate," Moore said after rejoining the team on Tuesday. "This game's crazy. It'll make you think crazy things, what [the pitcher's] trying to do instead of what you're up there trying to do."
Moore fell into a similar funk in May 2012, when he also was sent down to Triple-A to rediscover his swing. He returned to the Nationals 10 games later and his batting average ballooned to .339 by the end of June.
Johnson hopes that Moore's brief Minor League stint has a similar result this year. Whether he's in the starting lineup or pinch-hitting, Johnson said that he needs Moore's powerful right-handed bat.
"Your corner guy, you want to use a guy out there who's got some thump," Johnson said. "[Jeff] Kobernus and [Steve Lombardozzi], it's not really what I'm looking for hitting down in the order. I want someone to be able to run into one every once in a while, clear the bases. And [Moore] certainly can do that."
Tom Schad is an associate reporter for MLB.com. This story was not subject to the approval of Major League Baseball or its clubs.