D-backs manufacture win over Nats in 11
D-backs manufacture win over Nats in 11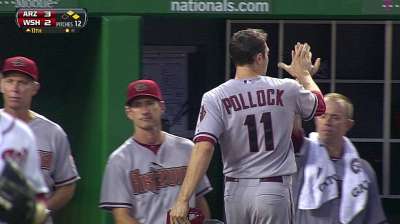 WASHINGTON -- A rain shower delayed the start of the game by just over an hour, but when it finally got going, it was the pitchers' duel everyone expected.
Patrick Corbin and Stephen Strasburg battled to a draw Thursday afternoon, but it was the D-backs who eventually came out on top, 3-2, in 11 innings at Nationals Park.
With the win, the D-backs salvaged one of the three games of the series as they head to Atlanta to open a series with the Braves on Friday.
"That's one of the better games we've played in a while," D-backs manager Kirk Gibson said.
Miguel Montero led off the 11th with a ground-rule double off Craig Stammen on a drive that bounced over the wall in center.
"I know he's got a good sinker and I was just looking for a sinking fastball, and I put a good swing on it," Montero said. "My plan was just to go up there, see the sinker and drive the ball the other way or in the gap somewhere."
A.J. Pollock came on to run for Montero, and he advanced to third on a sacrifice bunt by Cody Ross. Jason Kubel then drew a walk to put runners on first and third for Didi Gregorius.
Before Gregorius stepped into the on-deck circle, Gibson pulled him aside and told him to be alert for the safety-squeeze sign.
"It's a play we haven't used much this year," Gibson said. "We've worked on it over the years."
The only previous time that Gregorius had attempted the play, it did not go well.
"I hit it straight to the pitcher," Gregorius said.
Gibson did not put the sign on for the first pitch, which Gregorius took for a strike, and he did not do it on the second pitch, which Gregorius took for a ball.
"Just didn't put it on for a couple [of pitches], I think they maybe expected it early," Gibson said. "Got to an even count, so I put it on, and it was a great bunt and he got a hit out of it."
More importantly, Pollock scampered home with the go-ahead run.
"That was a blueprint," Nationals manager Davey Johnson said. "You can't lay it out there any better than he did. It was just one of those things. It was that kind of a ballgame."
D-backs closer Heath Bell pitched the bottom of the 11th to record his 14th save.
By the time the game was decided, Corbin and Strasburg were long gone.
It was the fifth time that Corbin had tried to pick up his 10th win of the season, and he took a no-decision and remained stuck at 9-0. It was the 19th straight winless start by an Arizona starting pitcher, with Wade Miley recording the last victory, on June 5.
"Well, we won today," Corbin said. "Obviously I'd like to get a win, but if the team wins, that's what I want. I just want to kind of keep us in the ballgame."
In the battle between two of the game's top young pitchers, it was Corbin who would blink first.
With two outs in the fourth, Corbin issued a walk to Adam LaRoche, and Ian Desmond followed with a home run to give the Nationals a 2-0 lead.
The D-backs tied things up in the sixth, when Corbin helped his own cause with a leadoff single.
One out later, Aaron Hill turned on a 95-mph offering from Strasburg and hit it into the bullpen in left to tie the game at 2.
The Nationals had a chance to take the lead in the seventh, when with a runner on second and two outs, Denard Span smashed a one-hopper toward the line at first. Paul Goldschmidt made a diving play on the ball and then beat Span to the bag to end the inning.
The pitching lines of Corbin and Strasburg were remarkably similar.
Both went seven innings and allowed two runs, two walks and threw 76 strikes. Corbin allowed five hits to Strasburg's six, and Corbin fanned six while Strasburg struck out four.
Both pitchers were backed by outstanding defense.
Span made a leaping catch at the wall to rob Kubel of extra bases in the first.
On the other side of things, in addition to Goldschmidt's diving stop, Hill made a diving barehanded flip play on a Desmond bunt; Gerardo Parra crashed into the wall in right-center to rob Tyler Moore; left fielder Kubel made a sliding catch in left-center; and third baseman Cliff Pennington made a nice barehanded play to take a hit away from Anthony Rendon.
Steve Gilbert is a reporter for MLB.com. Read his blog, Inside the D-backs, and follow him on Twitter @SteveGilbertMLB. This story was not subject to the approval of Major League Baseball or its clubs.