Strasburg sharp, but Nats fall to D-backs in 11
Strasburg sharp, but Nats fall to D-backs in 11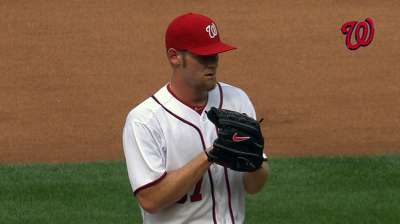 WASHINGTON -- After a 62-minute rain delay and a 10-inning pitchers' duel, Thursday's game turned on the unlikeliest of plays: a bunt.
D-backs catcher Miguel Montero hit a leadoff double off Craig Stammen in the 11th inning and Didi Gregorius brought home the deciding run on a squeeze play three batters later as the Nationals let an early lead and superb start by Stephen Strasburg slip away, falling to the D-backs, 3-2.
"That was a blueprint [bunt]. You can't lay it out there any better than he did," manager Davey Johnson said. "It was just one of those things. It was that kind of a ballgame."
After a drizzling rain delayed first pitch by just more than an hour, the Nationals were in prime position to sweep a series for the first time since the first week in May. Instead, they were forced to settle for a series win and a return trip to the .500 mark.
Strasburg had another strong outing, allowing two runs on six hits over seven innings, with two walks and four strikeouts. Though his 4-6 record might not show it, the 24-year-old has been even better than he was at this point last year. His 2.41 ERA is among the best in the National League, but he hasn't gotten enough run support to translate outings like Thursday's into wins.
"I think it's making me a better pitcher," Strasburg said. "I think the one thing I learned is that you can't go out there and try to do too much, you can't go out there and pitch to the scoreboard. Once you do that, you're done."
In what was expected to be a duel between Strasburg and D-backs southpaw Patrick Corbin, the Nationals and D-backs had a combined four hits until the bottom of the fourth, when Adam LaRoche walked and Ian Desmond put the home team ahead.
Desmond watched three consecutive sliders cross the plate before depositing the fourth into the visitors' bullpen in left field. The two-run shot was Desmond's 13th homer of the year and his 34th extra-base hit, which rank first among all Major League shortstops.
"I knew I hung it," Corbin said of the home run pitch. "I think I threw three in a row. The third one was just kind of middle up."
Strasburg had little trouble in his first five innings of work. He struck out three and didn't allow a single baserunner to advance past second. But that changed in the sixth.
Strasburg opened the inning by giving up an opposite-field single to Corbin. After Gerardo Parra ran into his own bunt in fair territory for one out, Aaron Hill followed Desmond's lead and also hit a two-run shot to the left-field bullpen. Strasburg surrendered a single and a walk before escaping the inning with the game tied at 2.
"[Strasburg] is learning. I think that's the scary part," third baseman Ryan Zimmerman said. "He's still got a lot to learn and a lot to adjust to and make adjustments. Little things. Obviously he's a great pitcher. It's kind of scary to think he's not even really close to what he could be."
Washington's ace was at 102 pitches through six innings and wanted to stay in the game for the seventh. Johnson obliged, and Strasburg rewarded him by retiring the side in order with just 11 pitches.
The Nationals nearly pulled ahead after the seventh-inning stretch when center fielder Denard Span hit a scorcher down the first-base line, but Paul Goldschmidt snagged it and stepped on first to end the inning.
The bullpens did their jobs and kept each team in the game, but as the night wore on, Washington's offense sputtered. The Nationals struck out five times and only had two hits in their final 11 at-bats, leaving the D-backs with an opportunity in the 11th.
As Gregorius' bunt rolled through the infield grass and pinch-runner A.J. Pollock bolted for home, catcher Jhonatan Solano picked up the ball and knew that it was too little, too late.
"When that play is executed right," Zimmerman said, "it's pretty much unstoppable."
Tom Schad is an associate reporter for MLB.com. Follow him on Twitter @Tom_Schad. This story was not subject to the approval of Major League Baseball or its clubs.