Hoping to avoid surgery, Beckett begins throwing
Hoping to avoid surgery, Beckett begins throwing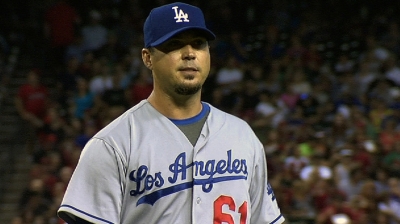 LOS ANGELES -- Dodgers pitcher Josh Beckett has begun a throwing program one month after being shut down with thoracic outlet syndrome, a pinched nerve that causes numbness and tingling in his pitching hand.
Beckett is trying to avoid surgery for the condition, which he has dealt with since Spring Training.
Beckett also missed time last year with Boston for shoulder inflammation, but it isn't clear if the two conditions are related.
The Dodgers acquired Beckett last year in the blockbuster with Boston that also brought Adrian Gonzalez, Nick Punto and Carl Crawford to Los Angeles. Beckett went 2-3 with a 2.97 ERA for the Dodgers last year, but was 0-5 with a 5.19 ERA this year when put on the disabled list on May 14.
Ken Gurnick is a reporter for MLB.com. Austin Laymance is an associate reporter. This story was not subject to the approval of Major League Baseball or its clubs.