In a Puig of his own, Yasiel does it again
In a Puig of his own, Yasiel does it again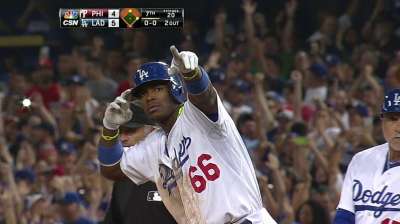 LOS ANGELES -- The Dodgers can't stop Yasiel Puig from crashing into walls and won't try to, as long as he keeps getting up and winning games the way he did Thursday night.
The rookie's two-run, two-out single in the seventh inning with the bases loaded was the difference in a 6-4 win over the Phillies that extended the Dodgers' win streak to a season-high six games.
"The way Yasiel plays is really contagious," said manager Don Mattingly. "You see that energy and it affects our fans and it makes the guys want to play like that. Bring a young guy like that in and it helps everybody. You've got to stay young. When everybody's experienced, sometimes it gets to be the same old thing. This kid brings energy."
Mattingly hasn't been immune to Puigmania, as he gave the rookie the green light on a 3-0 pitch with two outs, Nick Punto on third base in the second inning and Adrian Gonzalez on deck. Puig grounded out.
But Puig seems to turn the page easily. After flailing wildly at the first two sliders he received from reliever Justin De Fratus in the seventh inning, he reached far across the plate and muscled a third slider past shortstop Jimmy Rollins for the two-run single.
"Man -- I couldn't believe he hit it, to be honest," said De Fratus, although Philadelphia manager Charlie Manuel said, "It might have been a ball, but at the same time he was able to get his bat on it. You have to make him really chase."
Zack Greinke was asked if he would expect a rookie like Puig to be able to put that kind of pitch in play with such authority.
"Him? Yeah," he said.
Greinke (5-2) got the win, even though he couldn't protect a three-run first-inning lead the Dodgers offense ran up on Jonathan Pettibone, who would later retire 15 straight.
Along with Puig rewriting the record books, the Dodgers enjoyed a bonus bolt from Matt Kemp, who created an insurance run in the eighth inning with a single and two two steals before scoring on a sacrifice fly from A.J. Ellis -- as if Kemp never had a strained hamstring.
"I just feel good right now," said Kemp. "I feel like I've got them young Puig legs."
"We're playing a faster brand of baseball right now," said Ellis. "The energy is trickling through the clubhouse. It's also [Hanley Ramirez's] return. But with Puig, we wish we could play the way he's playing. The way he plays you don't see too much."
Add in a two-run double by Andre Ethier in a three-run first inning and the Dodgers finally have that potent outfield they thought they put together, with Puig the surprise replacement for the injured Carl Crawford. This was the first game with Ethier sliding over to left field and he caught all three balls hit his way.
"I'm just an outfielder," said Ethier. "And I like our outfield."
Hard not to, considering how it took the heat off Greinke, who couldn't protect that three-run first-inning lead. Greinke was coming off a winning eight-inning outing in San Diego. He allowed a whopping 12 hits and a walk in seven innings, charged with all four runs even though he was aided by three double plays. Greinke has allowed at least four earned runs in five of his 11 starts this season.
The defense bailed him out with three double plays and a nimble pickoff of Delmon Young at second base by Punto, who had a solid game giving Ramirez a breather at shortstop.
Greinke allowed a second-inning home run to Domonic Brown and a seventh-inning go-ahead shot by Chase Utley that cleared the wall at the same time Puig nearly knocked it over.
"They checked the wall and it's fine," Mattingly deadpanned.
Kemp, however, doesn't want to see Puig lose a collision to a wall the way Kemp did last year in Colorado, leading to serious shoulder surgery. Kemp also separated a shoulder running into the Dodger Stadium wall as a rookie.
"It kind of reminds me of myself," Kemp said. "Sometimes he plays too hard. Sometimes you've got to tell him to calm down. You can't make every play. But you can't really change his game. That's the way he plays. That's how he's going to be successful and let's just hope he doesn't get hurt because we need him out on the field.
"That's a big boy. I don't know if that wall can hold him. I think he beat up the wall more than the wall beat him up. I know the wall got me. It didn't get him. I'm just glad he's still out there on the field."
Utley's home run made it 4-3, but then Phillies first baseman Ryan Howard set up the winning rally when he slipped and fell trying to pick up Juan Uribe's sacrifice bunt after a walk to Ellis.
"I slipped. I cost my team the game," said Howard. "Of all the plays, the plays you make nine times out of 10, you slip."
The Dodgers beat the Phillies bullpen while J.P. Howell, Ronald Belisario and Kenley Jansen polished off the final two innings, Jansen gaining his fourth save in the last five games and fifth appearance in the last six games. He has an 0.51 ERA in his last 17 appearances.
"Early in the year, we give up runs like that and it's tough for us to bounce back," said Ellis. "But things have turned."
Ken Gurnick is a reporter for MLB.com. This story was not subject to the approval of Major League Baseball or its clubs.