Phils pick up defensive-minded IF McDonald from Tribe
Phils pick up defensive-minded IF McDonald from Tribe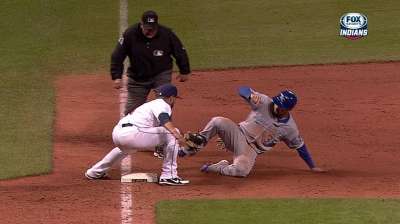 LOS ANGELES -- The Phillies consider Freddy Galvis a future everyday middle infielder, which is why they acquired infielder John McDonald on Thursday in a trade with the Indians.
The Phillies will send a player to be named or cash considerations for McDonald, whom the Indians designated for assignment Wednesday. McDonald, 38, has hit just .053 (2-for-38) with the Pirates and Indians this season, but he is known as a solid defender and good clubhouse guy.
The Phillies optioned Galvis to Triple-A Lehigh Valley to make room for McDonald on the 25-man roster. They also outrighted catcher Steven Lerud off the 40-man roster to make room for him there.
"He gives us a solid defensive backup," Phillies general manager Ruben Amaro Jr. said. "He's not an offensive player. He's not here to be an offensive player. He gives us a little depth in our infield."
Why Galvis? Well, the Phillies want him to play every day. Galvis had been regulated to the bench with Chase Utley, Jimmy Rollins and Michael Young playing every day.
Depending on what the Phillies do before the July 31 Trade Deadline, Galvis could be back in an everyday role in the near future.
"I think Freddy has to have some at-bats," Phillies manager Charlie Manuel said. "And I think, you know, it's hard to take Freddy and let him play every now and then if you think he's going to reach our expectations of him. When we evaluate him, we think he has a good chance of being a hell of a player. If he's going to stay here and only play once a week or something like that, that ain't enough. That's definitely not enough. But we'll see."
"We've been attracted to him for a long time," Amaro said of McDonald. "I think when I talked to him today I told him, it's been five or six years trying to get the guy just because of the defensive skills he has and because of the reputation he's had over the years and knowing what type of teammate he is. He's the type of guy we like to acquire."
Todd Zolecki is a reporter for MLB.com. This story was not subject to the approval of Major League Baseball or its clubs.