Joba's struggles continue in outing vs. Rangers
Joba's struggles continue in outing vs. Rangers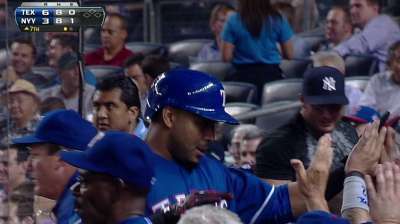 NEW YORK -- Joba Chamberlain kept his head down as he trudged toward the first-base dugout, and though he said that he didn't really notice the boos pouring out of Yankee Stadium's grandstands, the reliever also wasn't surprised by them.
Chamberlain turned in another ineffective relief outing for the Yankees on Wednesday, serving up a two-run homer to Nelson Cruz among four hits he permitted while recording two outs in the seventh inning of New York's 8-5 loss to the Rangers.
In Chamberlain's last seven appearances, he has served up four homers, permitting a total of 14 hits and nine earned runs over 6 2/3 innings (12.15 ERA).
"Obviously, I would boo me, too. I'm terrible," Chamberlain said. "There's no getting around it. Obviously, you come and spend money and you want to see someone do their job. It's one of those things where if you don't do your job, you expect to get booed. They have a right to. You can't get mad at them."
Yankees manager Joe Girardi has already shifted Chamberlain to lower-leverage situations, bringing him into games where the club is trailing for six straight appearances. Girardi said that Chamberlain is making mistakes in the middle of the plate and getting hammered for it.
"Somehow we have to find a way to get him going. That's the bottom line," Girardi said. "This guy needs to help us. To me, his stuff is too good not to help us, but right now, he's making mistakes."
Chamberlain has a 6.38 ERA in 19 appearances this season. He said that he would watch video to see if there is a mechanical adjustment that needs to be made, but noted that his velocity has seemed fine, so improving fastball command is his primary goal.
"Obviously, it's frustrating letting the team down. That's the worst part," Chamberlain said. "I know I [stink] right now. There's no getting around it. You've got to figure out what you can do to make it better."
Bryan Hoch is a reporter for MLB.com. Follow him on Twitter @bryanhoch and read his MLBlog, Bombers Beat. This story was not subject to the approval of Major League Baseball or its clubs.