Vogelsong gets splint off broken pinkie finger
Vogelsong gets splint off broken pinkie finger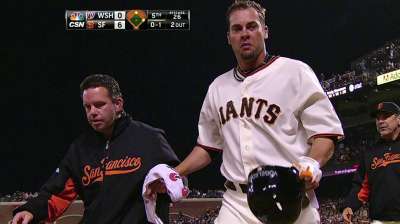 LOS ANGELES -- Ryan Vogelsong can begin strengthening his injured pitching hand, now that the splint has been removed from it.
Vogelsong, who sustained a fractured right pinkie on May 20, already has begun squeezing a rubber ball since he stopped wearing the splint Tuesday. His afflicted finger looked bent and discolored Wednesday, but Vogelsong said that he felt noticeable improvement in a mere 24-hour period.
"I'm trying to get some flexibility back in there," said Vogelsong, who's unlikely to resume pitching competitively for the Giants before August. "It's still pretty stiff right now."
In other injury-related news, manager Bruce Bochy cited the 15-day disabled list as a possibility for infielder Joaquin Arias, who'll test his strained left hamstring Friday at Colorado. Thursday is a scheduled off-day for the Giants.
"If we think he won't be ready, we may have to make a move with him," Bochy said.
Bochy said that Friday also will be the day when reliever Santiago Casilla, who's recovering from right knee surgery, will throw to hitters. That's expected to be one of the last hurdles that Casilla, the Giants' top right-handed setup man, must clear before he can be reinstated from the disabled list.
Chris Haft is a reporter for MLB.com. This story was not subject to the approval of Major League Baseball or its clubs.