Morel returns to the Majors
Morel returns to the Majors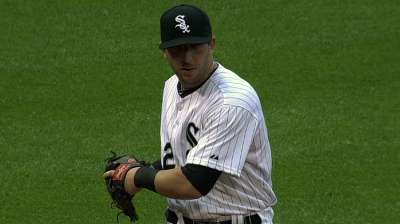 CHICAGO -- The White Sox placed Conor Gillaspie on the Paternity List Wednesday, with the 25-year-old and his wife expecting their first child. Gillaspie is eligible to return after one game but could be gone for as many as three.
Gillaspie's exit meant the return of Brent Morel, who was put into the starting lineup. Morel was the Opening Day starter at third base in 2012 but battled back problems throughout the campaign. Those back problems have not been even the slightest issue while Morel has produced a .280 average with 19 doubles, five homers, 40 RBIs and a .373 on-base percentage over 66 games with Triple-A Charlotte this season.
"I've been playing every day with no problems. I just do little stretches here and there," Morel said. "But there's nothing I do to take care of it. I don't think about it too much anymore. It's been a good rehab.
"I'm confident in my ability and my rehab. It was unfortunate not to make the team out of Spring Training, but I went down there and had a good attitude and played well."
White Sox manager Robin Ventura wasn't sure if Morel would be with the team beyond three days but appreciated the work put in by the career .230 hitter.
"Once we got [Jeff Keppinger], you get a guy like Gillaspie who is left-handed, it made [Morel] the odd man out. But he has gone to Triple-A, gotten healthy and played well," Ventura said. "It's a credit to him to work at it and be at the top of the list in case something came up."
Scott Merkin is a reporter for MLB.com. Read his blog, Merk's Works, and follow him on Twitter @scottmerkin. This story was not subject to the approval of Major League Baseball or its clubs.